Hi, all,
Here's a treat for you: Thirty-five pictures from the third Spectrum Fantastic Art Live held on May 9-11, 2014. Captions by Carl Anderson and Jeff Smith. There's a few captions missing. If you know the artist names, please let us know so that we can add them.
All photos by Vidur Gupta / Helpful Bear Productions for Spectrum Fantastic Art Live © 2014. All Rights reserved.
In the heart of Kansas City lies the venue for Spectrum Fantastic Art Live 2014; Kansas City Convention Center's 46,400 square foot Grand Ballroom.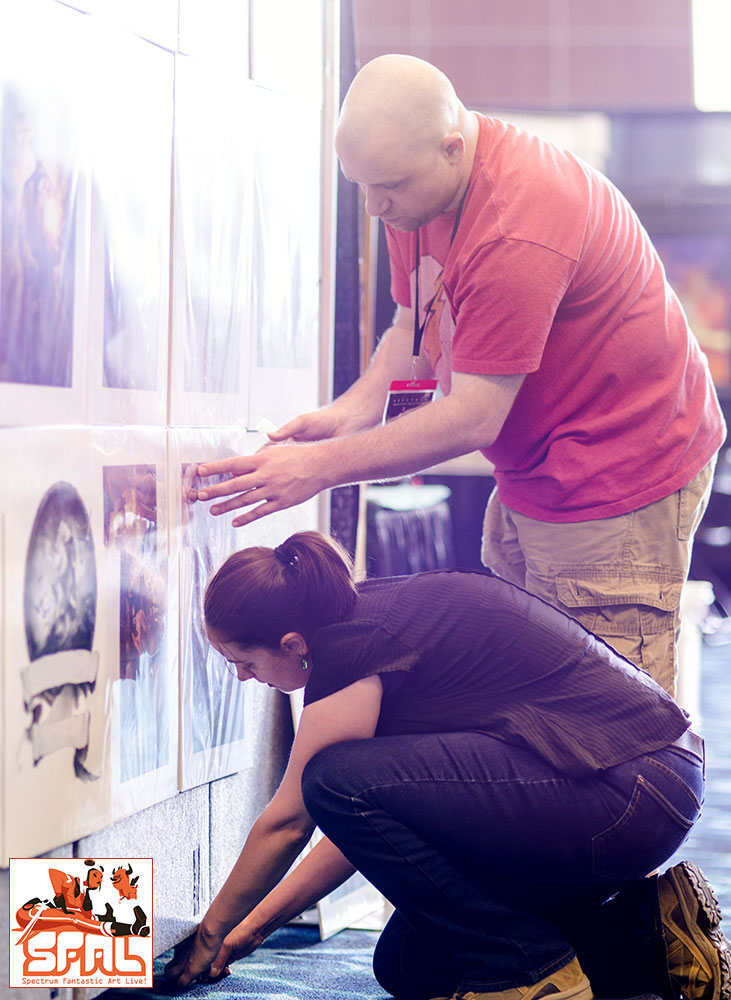 Artists Christina Hess and Dominick Saponaro hard at work putting the final touches on their booth before the show opens. Christina was selling a Spectrum exclusive teaser booklet for her upcoming "Animals From History" book.
Artist Edward Howard wowed attendees with numerous new originals in addition to offering affordable prints, like the one shown above, which you may recognize from the opening pages of Spectrum 20.
3-day ticket holders and exhibitors were treated to free hors d'oeuvres during the opening night party and Art Director Meet & Greet before viewing the film premiere of the documentary "Making It" on Friday evening.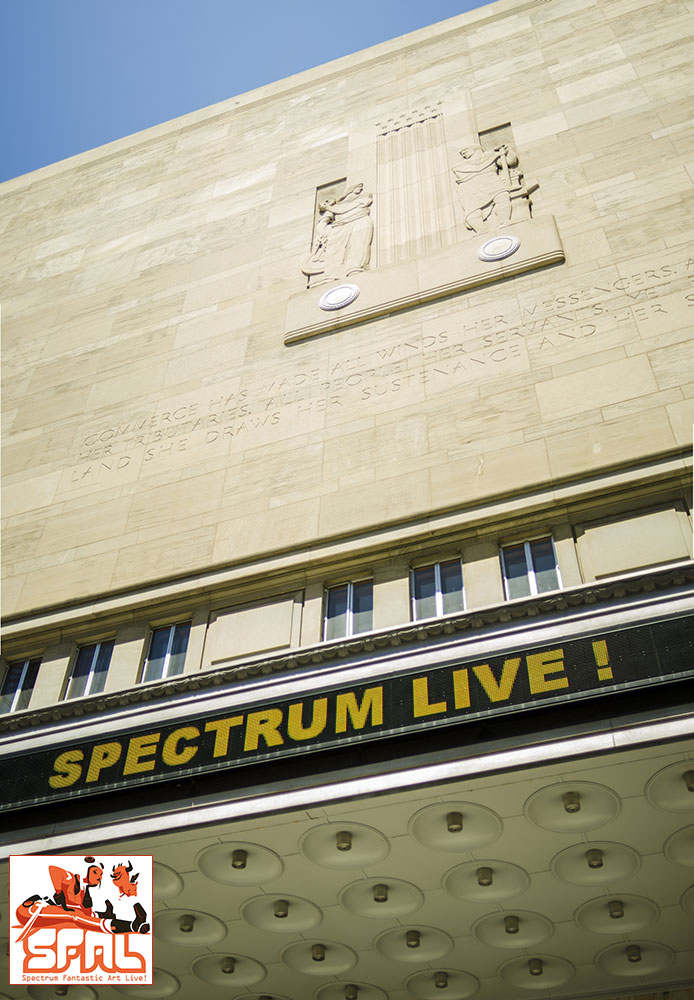 The Kansas City Conventions & Visitors Bureau welcomed Spectrum attendees and exhibitors all over downtown.
Donato Giancola spies our camera at the opening night 3-day ticket holder and exhibitor party.
Jackson Robinson catches us taking pictures at the opening night party. Spectrum Fantastic Art Live marked Jackson's convention debut. His playing card art work and decks were a big hit, particularly his Sherlock Holmes themed decks.
Steve Rude and Donato Giancola at the opening night party. Mr. Rude held a cosplay model contest leading up to the show. He painted the winner, donning a Supergirl costume, live during a demonstration on Saturday morning.
Greg Manchess enjoying himself at the opening night party.
Craig Elliott at the opening night party.
Eric Deschamps enjoying the opening night party.
Is that Johnny Depp? No, that's Nigel Sade! Nigel is one of the nicest artists you could meet. (Side note: In the background of this photo on the left hand side you will see two of the hardest working ladies on the Spectrum committee: Event Organizer Shena Wolf and Volunteer Coordinator Amanda Banion.)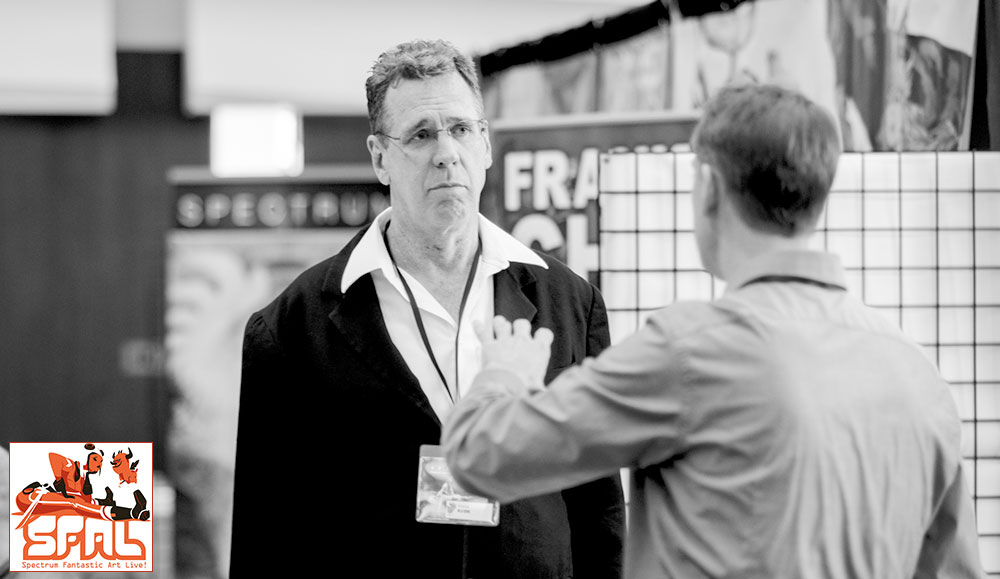 Steve Rude listening to John Fleskes' vision on the show floor.
Adrian Johnson of Sidebar Nation interviews Special Guest Tim Bruckner. Mr. Bruckner shared how he got into sculpting, discussed challenging pieces, explained techniques and fielded questions from the crowd.  A great interview to kick off the weekend's scheduled programming.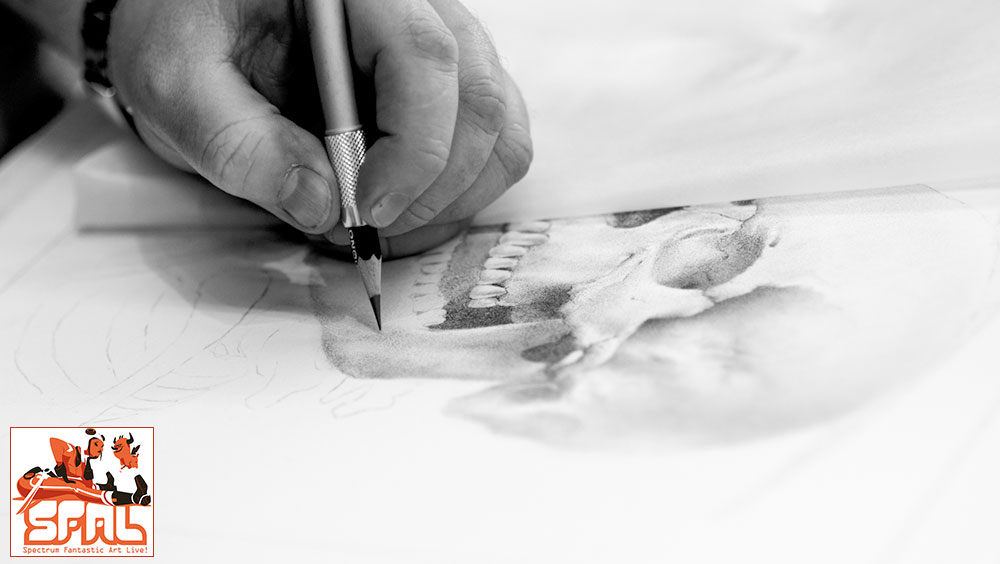 Jackson Robinson signing one of his Sherlock Holmes playing card decks for a fan. Jackson not only created all the artwork on the cards he also created unique packaging.
The Shiflett Brothers (Brandon and Jarrod) at their exhibit booth.  They participated in live sculpting demos throughout the weekend and were available for 3D portfolio reviews. Look for an award winning piece from them in Spectrum 21 this fall.
Forest Rogers admiring one of Virginie Ropars' incredible sculptures, with the artist herself! Words can't express how incredible it was to see, study, and be able to purchase original sculptures directly from the artists.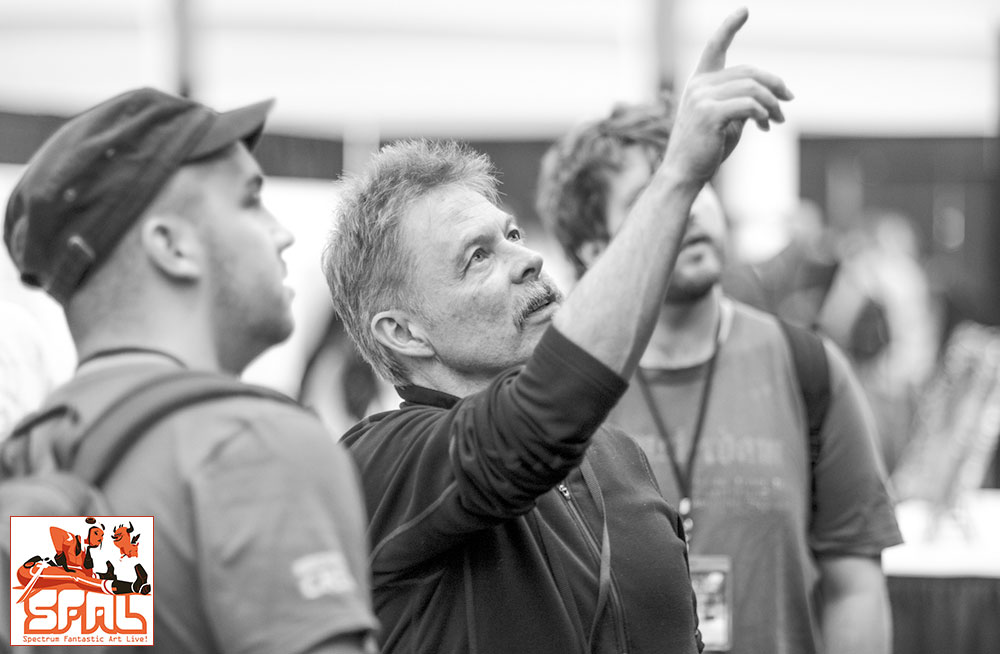 Greg Manchess points out details on original paintings he brought to the show to sell. As part of the weekend's activities,  Greg participated in a live painting demonstration with artist Gary Kelley on Saturday afternoon that drew the attention of fellow artists as well as attendees.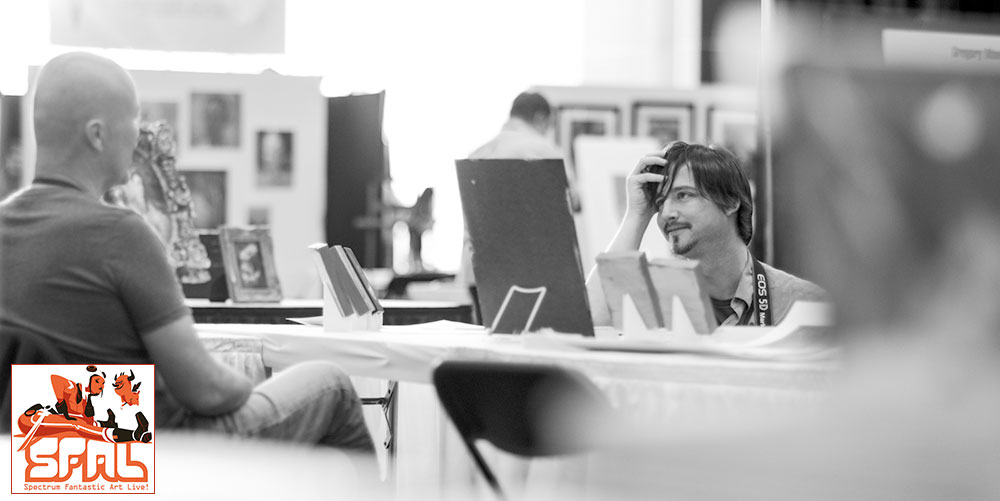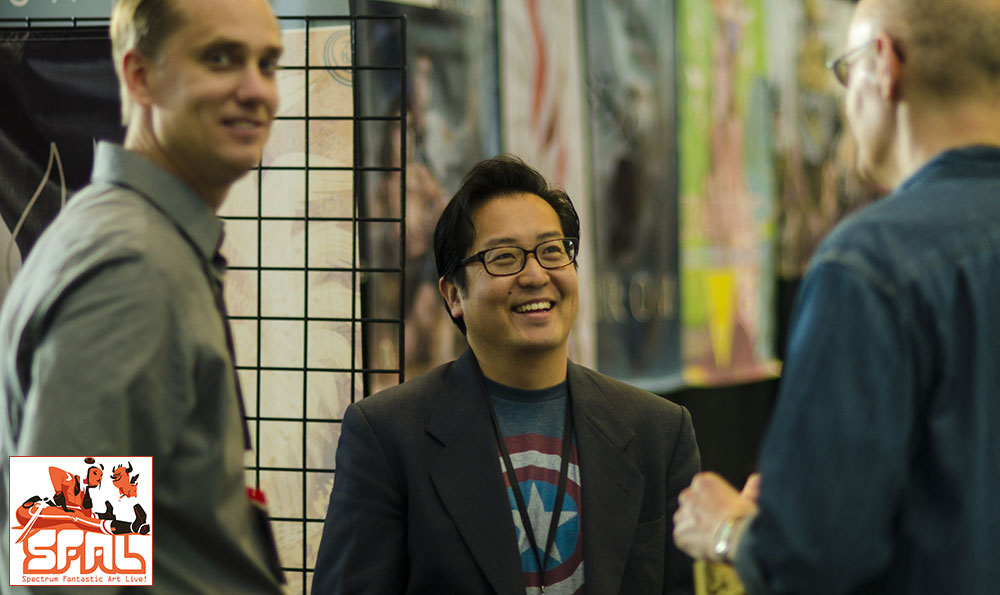 John Fleskes, Special Guest Frank Cho, and Mark Schultz talking at the Flesk Publications booth. Frank Cho put on a live drawing demo during his special guest interview on Saturday and Mark Schultz conducted a dry brush demo on Sunday.
Craig Elliot organizing his originals and prints for sale at the Flesk Publications booth.
Anthony Kosar's "Boaris Frankenswine"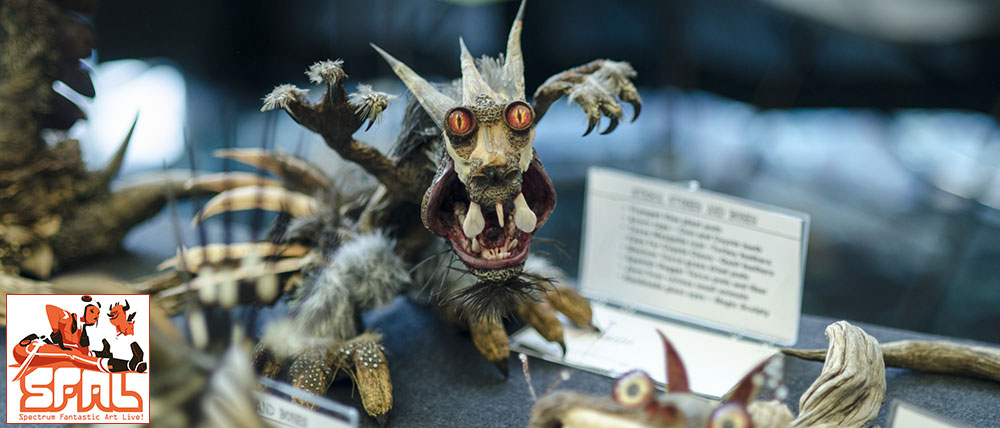 One of Dan Chudzinski's signature pieces.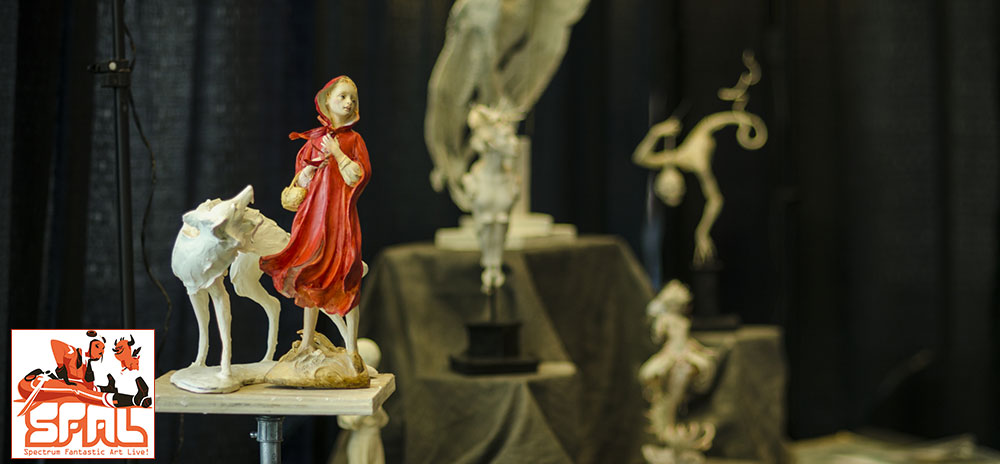 Red Riding Hood, a sculpture by artist Forest Rogers.
"Vertical Man-Tank, 1892", a piece from The Shiflett Brothers which took home the Gold Award in the Dimensional category.
Just Colcord – Luke Burrage's sculptures.
More pictures and Q&A coming soon!
Enjoy,
John
John Fleskes
Flesk Publications
Flesk Publications on Facebook
Spectrum Fantastic Art
Spectrum Fantastic Art Live
Spectrum Fantastic Art Live on Facebook
Text copyright © 2014 John Fleskes. Artwork copyright © their respective owners. Photos by Vidur Gupta / Helpful Bear Productions for Spectrum Fantastic Art Live © 2014. All Rights reserved.