Greetings, all,
During our road trip back to California from Kansas City, Mark Schultz and Jim Reid asked me a few questions about the recent Spectrum Fantastic Art Live event. I decided to type up my responses while we were traveling through Arizona along Highway 40. I've also added a series of fifteen pictures from the show with captions.
Question: This is the third year of the Spectrum Fantastic Art Live show. Tell us about the growth this year.
Answer: The growth can be measured and discussed in a few ways.
First, the pre-sales for tickets were more than double what they were last year. That's a big deal and worth celebrating. There was a noticeable increase of people on the floor compared to last year.
Second, three of us joined the Spectrum show committee; Carl Anderson, Jeff Smith and myself. We took on roles to help add new features, which I'll get into in a second, and to help spread out the existing duties to allow for a better individual focus of responsibilities both before and during the show. There seems to be the misconception that I am in charge of the show. But really, the show is the result of a team of dedicated and hard-working people put together by Cathy and Arnie Fenner. It is the initiative and efforts of the Fenner's, and also Shena Wolf who plays an integral role in its operations, that makes the show a success.
Third, there were a number of new features added to the show. I'll run down the list.
A) We added an "Artist Tables" section, which gave our future stars an opportunity to exhibit at a show for a modest price. This was intended to attract more local, young, first time and / or artists that have a smaller show budget to the event as exhibitors. We could have continued to fill the whole show with booths, but I think by reserving a portion of the exhibit hall space for artist tables, it allows more opportunities to the artists, and gives us more of a diverse range of artists attending, which attracts more people to the show. I think it's better for everyone.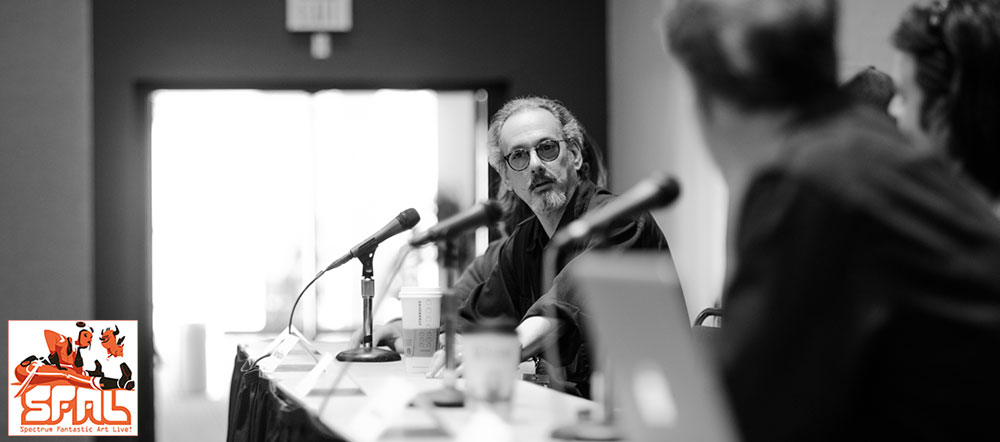 B) We improved our panels and workshops by adding more of an educational focus. We had artist panels by top industry professionals and art directors. For instance, Iain McCaig, Mark Schultz and Steve Rude all conducted artwork demonstrations. Justin Sweet and Vance Kovacs talked about working in film. Art Directors Lauren Pinepento, Marc Scheff and Jon Schindenhette did portfolio reviews. Comics professionals Terry Dodson, Frank Cho and Mark Chiarello offered advice on working within the industry. There was a live sculpting event happening all weekend on the show room floor. We covered quite a bit of core industry essentials that were geared toward professionals in the field, for those just breaking, for students, and even for fans who want to see how things are run. I also want there to be opportunities for young artists rub elbows with the established pros.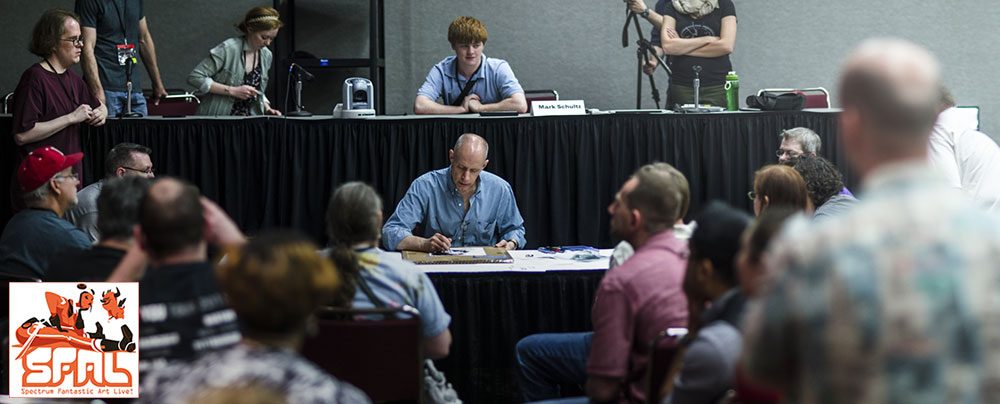 Then to get back to the main areas of growth, fourth, there were more artists at the show. Besides the five special show guests, plus the ten additional artists who joined us at our Flesk / Spectrum booth, if you add the artist exhibitors to the list, there were over 200 artists there to meet, learn from, get autographs and purchase original artwork from.
I'll add too, that we continued to make sure we kept the daily ticket prices at only $20, or all three days for $40, since we want to make sure the show is easily accessible. If you took all of the workshops that were available to all of the attendees at no additional price, it's an incredible bargain.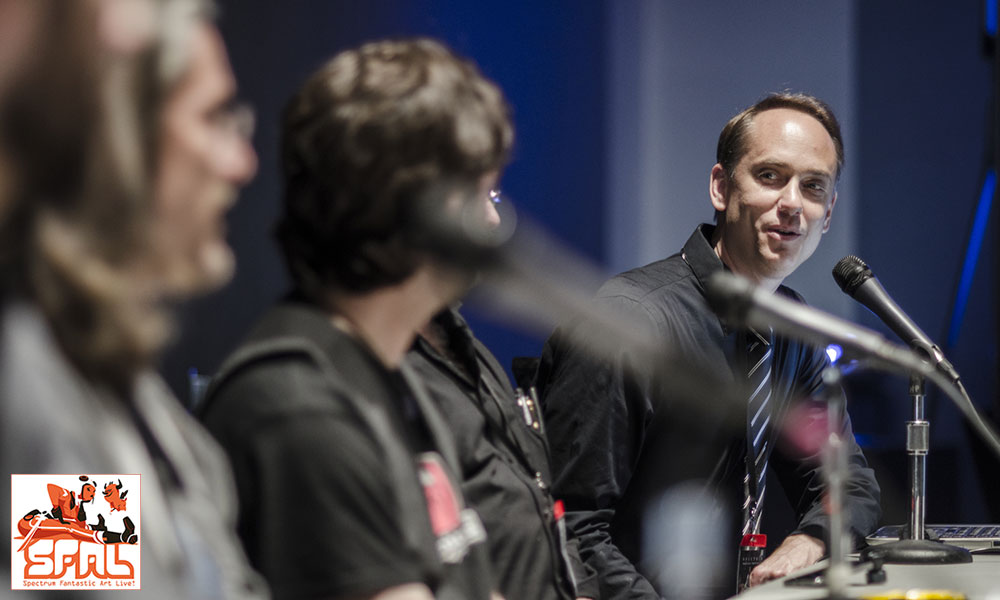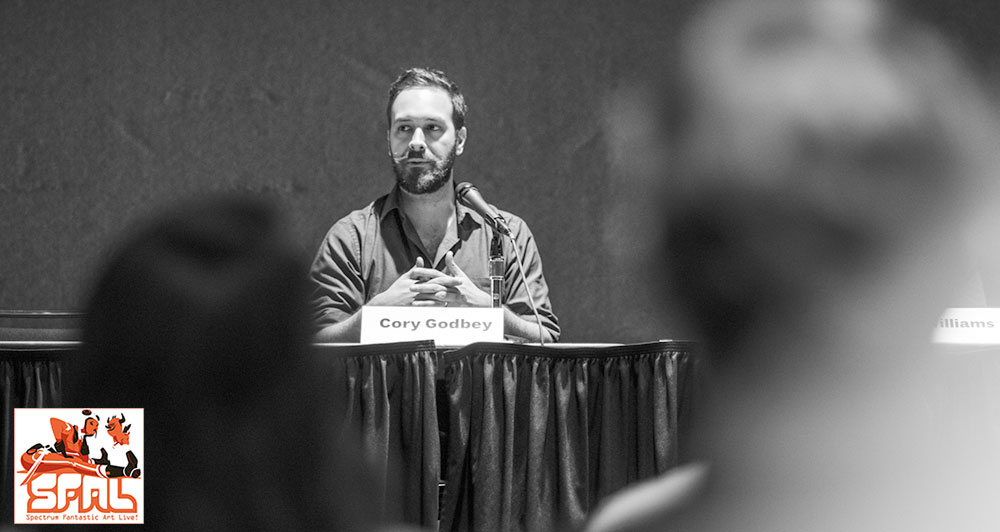 Question: Why have the show in Kansas City?
Answer: The main reason why I like having the show in Kansas City is its central position within the country. This allows SFAL to attract artists from the west and east coasts, as well as everywhere in-between to make for an exceptionally diverse group. The city is just a one to three hour flight from most states making it easy to travel to. Also, Kansas City offers inexpensive hotels, a wide variety of restaurants from quick meals to fine dining, all of which are within a short walking distance to the convention center. The local community and city itself have been very supportive as well.
Question: What type of artists do you want to see at SFAL?
Answer: One of the main aspects that I want to retain about the show is the heart. We want SFAL to grow while maintaining the essence of bringing the community together to a welcoming environment. With this said, I would like to continue to see artists come to the show who are supportive of one another and who enjoy the collaborative process of growing together. Anyone who has something to communicate through art, artists who are enthusiastic–even those who may feel unwelcome elsewhere–we want them here.
Question: Beyond community and workshop opportunities from the show, what practical aspects can the artists expect to gain from exhibiting at the show.
Answer: As someone who has exhibited at over 100 shows, I'm well aware of the time and cost considerations that go into exhibiting at a show. For me personally, the show has to make sense and be practical beyond just having a fun time to justify going in the first place, let alone signing up to go again the next year. The Spectrum committee is well aware of the need for fans and patrons to attend the show who are willing to buy artwork to allow the artist to continue to create their artwork. We had placed advertisements in newspapers, magazines, online and even run TV commercials, as well as social networking to inform, educate and encourage people to come to the show. It's all well and good to say we will have a good time, but we need this to make sense for everyone. None of the Spectrum committee has taken a salary and we've turned all of the money right back into next year's show, so we are committed to making this happen.
Question: What type of atmosphere do you hope to create for SFAL?
Answer: Our goal is for this show to be an event that is something in-between the comic shows and fine art shows. We want the sophistication and focus on the art that the fine art shows have, yet the accessibility and fun that can be found at a comic show. And again, we want people to have the opportunity to grow and to be inspired upon leaving that combined will benefit their art and careers.
Question: Are there any after-hours activities?
Answer: Yes. Every night. There was the Spectrum Awards, a life-drawing event and social gatherings. After-hours activities are important, not just for the attendees who want to keep enjoying their time in Kansas City, but also for the exhibitors who have been at their booths all day and want to enjoy the company of their fellow professionals. Starting on Thursday evening, planned evening hot-spots are promoted where everyone can all get together. These are public places and welcome to all. This year was exciting in that by Sunday there were three main locations that were packed with people from the show, compared to just the one spot the following two years. One of my favorite comments this year was that our previous quiet spot was now packed with people from the show late into each night. I hope to hear this complaint more and more.
Question: What was the life-drawing event?
Answer: On Friday night, a large room and models were secured in the Aladdin hotel where artists were able to draw direct from life. Roughly 150 artists were there. It's proven to be very popular these last three years.
Question: And can you give me some more details about the Spectrum Awards?
Answer: The Spectrum 21 Awards ceremony was held on May 10th at the historic Midland Theater. The gold and silver Spectrum 21 awards were handed out to sixteen artists within eight categories. This is the time to shine the spotlight on the artists and make them the stars, while celebrating their hard work and achievements. We also announce the 2014 Spectrum Grand Master Award, the recipient of which has to have had over 20 years in the field, given freely to the community, inspired a new generation and whose art is exceptional in every way. This year the award was given to Iain McCaig. There was live entertainment, amazing heartwarming acceptance speeches and a lively after-party.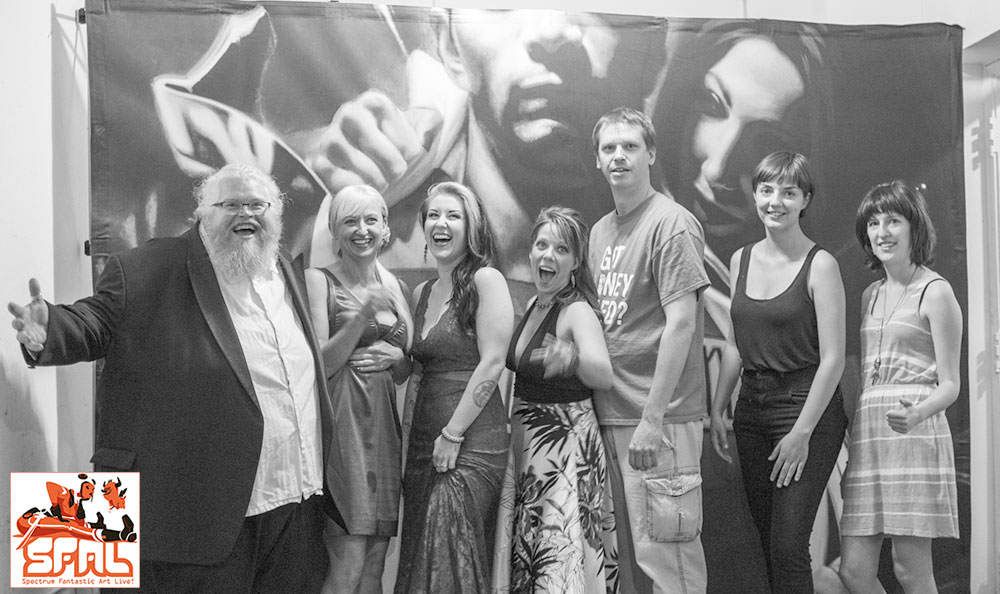 More pictures and Q&A coming soon.
Enjoy,
John
John Fleskes
Flesk Publications
Flesk Publications on Facebook
Spectrum Fantastic Art
Spectrum Fantastic Art Live
Spectrum Fantastic Art Live on Facebook
Text copyright © 2014 John Fleskes. Artwork copyright © their respective owners. Photos by Vidur Gupta / Helpful Bear Productions for Spectrum Fantastic Art Live © 2014. All Rights reserved.