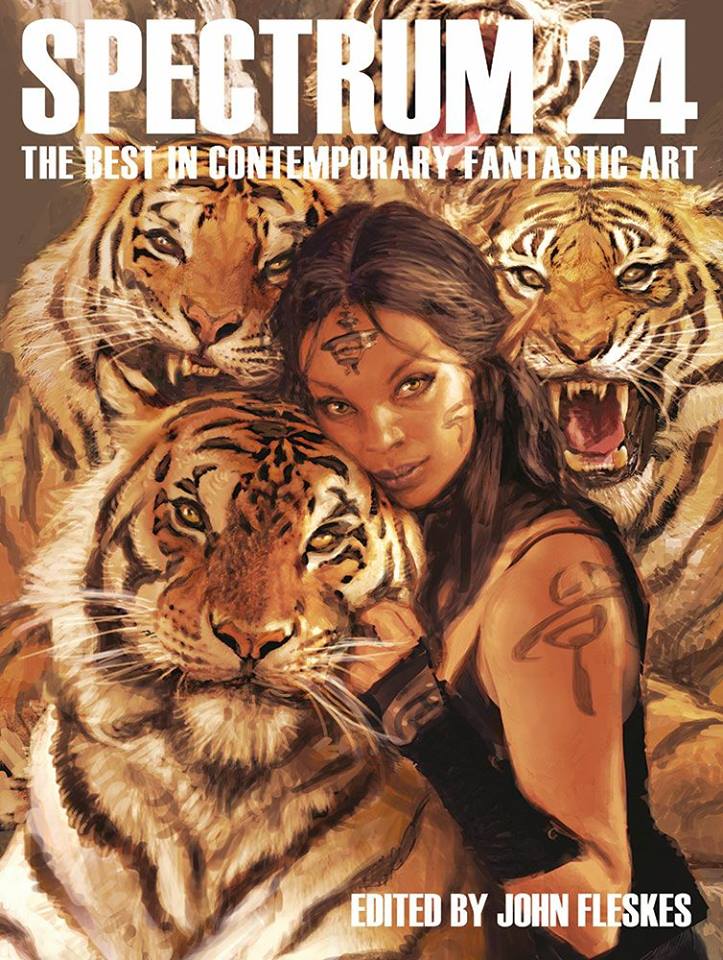 For 24 years Spectrum: The Best in Contemporary Fantastic Art has been celebrating imaginative works by creators from around the world. During a ceremony in Kansas City, Missouri Saturday night, April 22nd, the celebration continued with the presentation of Gold and Silver Awards for exemplary art from the previous year in eight categories: Advertising, Book, Comics, Concept Art, Dimensional, Editorial, Institutional, and Unpublished. The ceremony was held in the historic Folly Theater and presided over by Spectrum's Director and publisher, John Fleskes. Presenters included such luminaries of the art community as J.A.W. Cooper, John English, James Gurney, Lauren Panepinto, John Picacio, Dan dos Santos, Bob Self, and Richard & Wendy Pini, Colin & Kristine Poole, George Pratt, Terryl Whitlatch. Spectrum co-founders Cathy and Arnie Fenner introduced a memorial video devoted to the creatives who had passed away in the previous year. Maeret Lemons served as the MC during the ceremony. Voler: Thieves of Flight, Kansas City's Premier Aerial Academy and Aerial Performance Collective, performed during the evening.
The 5 finalists and award-recipients in each category were selected by a blue-ribbon jury consisting of Christian Alzmann [artist], Laurie Lee Brom [artist], Mark Newman[sculptor/artist], Victo Ngai [artist, instructor], and John Picacio [artist] from over 5000 artworks submitted to the twenty-fourth annual competition. Also presented at the ceremony were the Rising Star Award, created and presented by sculptors Kristine and Colin Poole and intended to encourage a young artist, and the Spectrum Grand Master Award which honors the career accomplishments of a living artist. This year's Grand Master recipient was legendary comics creator Bill Sienkiewicz, who was present to accept his award and say a few words to the audience.
The award-winning art will appear with nearly 500 other pieces selected by the judges in the Spectrum 24 book, which will be published by Flesk Publications in November.
Spectrum 24 Awards Recipients
2017 GRAND MASTER HONOREE
Bill Sienkiewicz
ADVERTISING
Silver Award
Greg Ruth / "Daredevil"
Gold Award
Bayard Wu / "Hunting"
Other nominees:
Kellan Jett / "Hell"
Edward Kinsella III / "Carnival of Souls"
Bill Mayer / "Savages"
BOOK
Silver Award
Edward Kinsella III / "Danneee"
Gold Award
Brom / "Lamia"
Other nominees:
Richard Anderson / "Red Tide"
Tommy Arnold / "On the Wheel"
Goni Montes / "Tamiel"
COMIC
Silver Award
Dave McKean / "Black Dog: The Dreams of Paul Nash"
Gold Award
Jeremy Wilson / "Chimera Brigade #5"
Other nominees:
Arthur Adams / "Guardians of the Galaxy #19 (cover)"
Nic Klein / "Drifter #13, pages 8 and 9"
David Palumbo / "Swallowed Whole"
CONCEPT ART
Silver Award
Iain McCaig / "King Ape Minion"
Gold Award
Sean Murray / "Court of the Dead: Voxxingard"
Other nominees:
Te Hu / "Secret of Seda"
Tyler Jacobson / "Hill Giant Queen"
Ronan Le Fur / "Fortress Africa"
DIMENSIONAL
Silver Award
Akihito / "Nephila"
Gold Award
Jesse Thompson / "Dress-Up Frog Legs"
Other nominees:
Amilcar Fong / "Oglavaeil The Executioner"
Virginie Ropars / "Yevabog"
Dug Stanat / "The Corruption of Father O'Malley"
EDITORIAL
Silver Award
Galen Dara / "Seven Salt Tears"
Gold Award
Tim O'Brien / Beyonce "Lemonade"
Other nominees:
Clint Cearley / "Broken Concentration "
Tran Nguyen / "La Beaute Sans Vertu"
Armando Veve / "War Music"
INSTITUTIONAL
Silver Award
Ed Binkley / "William Finds Some Flowers and a Giant"
Gold Award
Bill Carman / "Ms. Hatter and a Smile"
Other nominees:
Wesley Burt / "Accursed Witch"
Travis Louie / "Mojo Jojo Circa 1897"
Stephan Martiniere / "Tie Fighter Down"
UNPUBLISHED
Silver Award
Jeffrey Alan Love / "Orange Skies"
Gold Award
Karla Ortiz / "The Death I Bring"
Other nominees:
J.A.W. Cooper / "Stealth"
Diego Fernandez / "375"
Greg Ruth / "Lagoon"
RISING STAR AWARD
Alessandra Pisano
2016 GRAND MASTER HONOREE
Bill Sienkiewicz
Enjoy,
John
Flesk Publications
Flesk Publications on Facebook
Spectrum Fantastic Art
Spectrum Fantastic Art Live
Spectrum Fantastic Art Live on Facebook
Text and photos copyright © 2016 John Fleskes. Artwork © 2016 its respective artists. All Rights reserved.