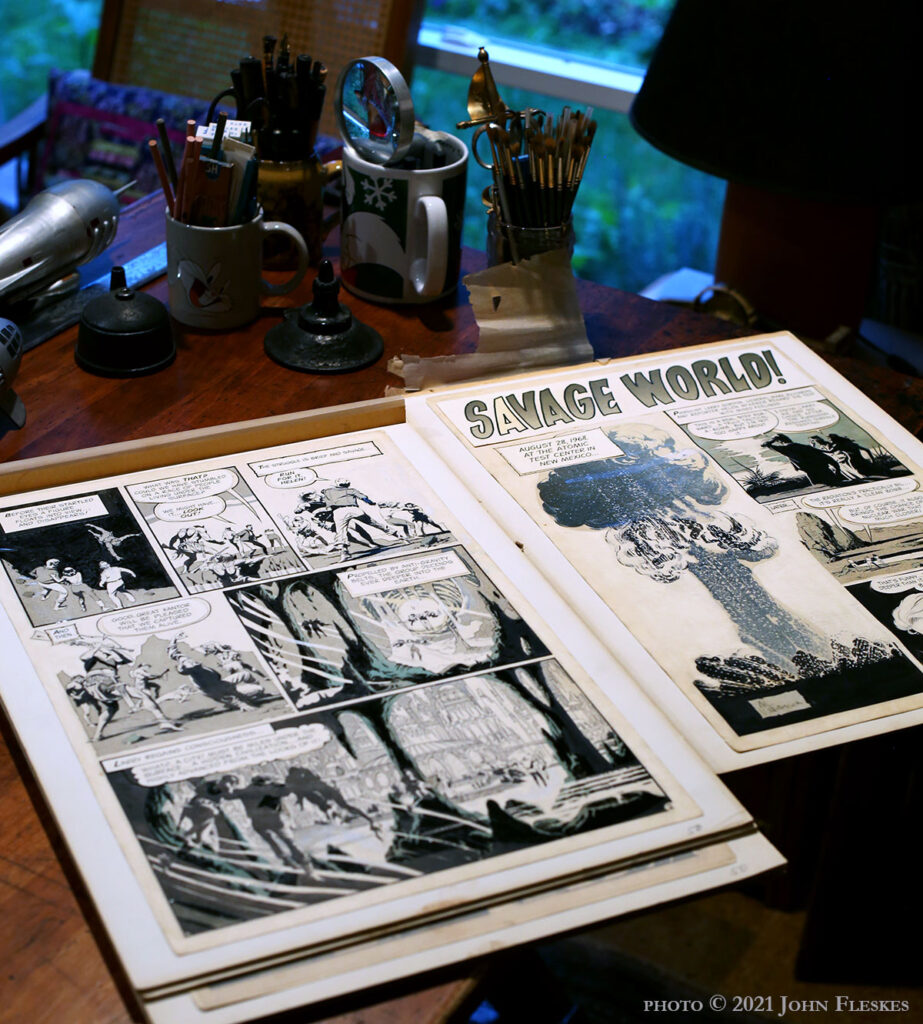 This is a brief overview of our year and what you can expect to see from us.
I'll start with the photo. It was taken during a visit to the Al Williamson studio a few years back. Being able to see the "Savage World!" original art was a special moment. Especially while the pages were resting on Al's drawing table.
Here's a shipping update on the Williamson and Mark Schultz books.
If all goes well, we will have Al Williamson: Strange World Adventures, Carbon 4 by Mark Schultz, Xenozoic by Mark Schultz and the Al Williamson and Mark Schultz Astounding Sketchbook next week. The books are still at the port waiting to be offloaded from the shipping vessel. We will begin shipping our Kickstarter pledges and Flesk online pre-orders just as soon as they arrive.
As for our next wave of Flesk books, we have five other books at the printer. These include The Drawings of Edwin Austin Abbey, Covenant: The Art of Allen Williams, new books with Frank Cho and Gary Gianni, and a new printing of the Bruce Timm Naughty and Nice collection. Once the books have been printed and are being shipped to us I'll reveal more and open them all up for pre-orders. We would like to see how the shipping transit times are looking before we announce the release dates.
In the meantime, we are working on the new Franklin Booth book, two new Arthur Adams books, three new William Stout books, plus we are wrapping up two books by a pair of new artists. Then we have the J.A.W. Cooper book to start in June, plus two other new artists who we will start working with in the summer. Then we will have more books featuring Mark Schultz and Al Williamson to work on for 2022. There's more, but this is what we can share to date.
For the rest of 2021 we do not have any plans to exhibit at any shows. This includes the San Diego November show that we will skip. We will start fresh with events in 2022. Until that time we will continue to make the best books that we can.
You have our thanks for supporting us.
All my best!
–John
Flesk Publications
Flesk Publications on Facebook
Flesk Publications on Instagram
Text and photos copyright © 2020 John Fleskes. Videos © 2021 Flesk Publications. Artwork © 2020 its respective artists. All rights reserved.