In October of 2013 I traveled to Breda, The Netherlands to exhibit at the Strip Festival event. We had a thirty foot long Flesk booth where Terry Dodson, Petar Meseldzija, Mark Schultz, Jim Silke and Thomas Yeates signed during the 26th and 27th weekend dates.
Prior to my arrival in the country I came up with an idea for four of the artists to work on a comic strip collaboration together. It started with a large illustration board that contained four empty panels. Each artist was responsible for drawing the contents to one of them. The idea was that no one knew where the story would start, or how it would end. The story and script was not pre-planned in advance. Instead, a narrative would form organically through the process. Petar Meseldzija went first, followed by Mark Schultz, then Thomas Yeates, with the finish by Terry Dodson. I think Terry had the toughest job by coming up with an ending, however Rachel Dodson stepped in to offer the perfect idea to give the strip a proper bookend.
This joint-work was completed during our group travels that ran from October 24-27. It was worked on in a restaurant by Petar, a hotel lobby by Thomas and at the Strip Festival show itself by Schultz and Dodson. All along I filmed the process. Now, after three years of sitting in our Flesk film vaults, Kathy Chu and I dug the material out and made this video.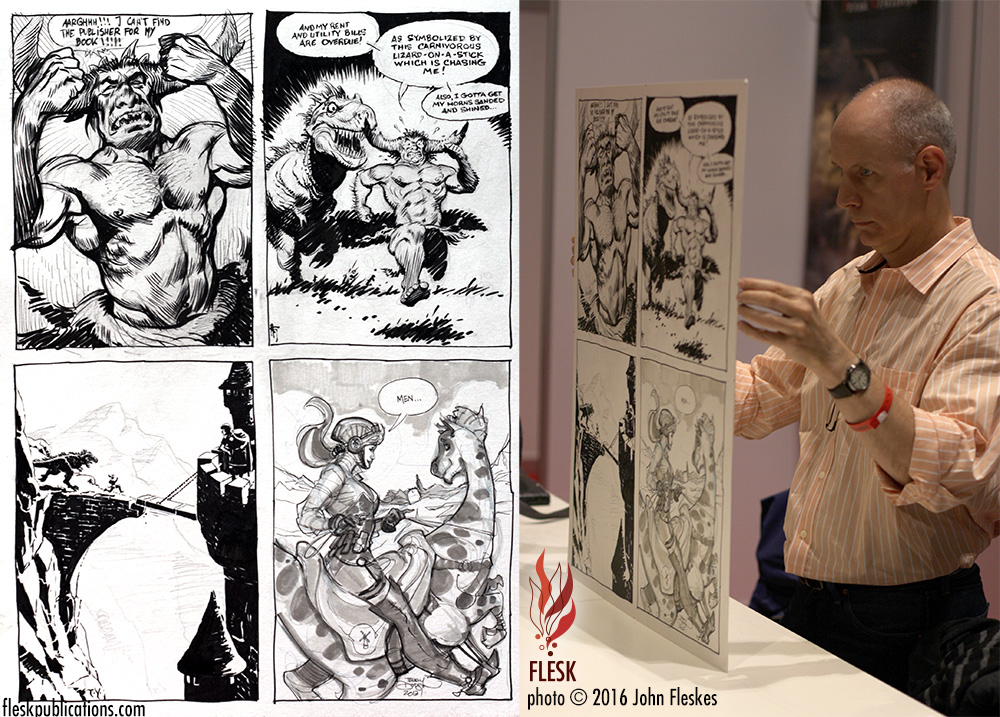 We hope you will enjoy it.
Text copyright © 2016 John Fleskes. Photos © 2016 John Fleskes. Artwork © 2016 its respective artists. All Rights reserved.