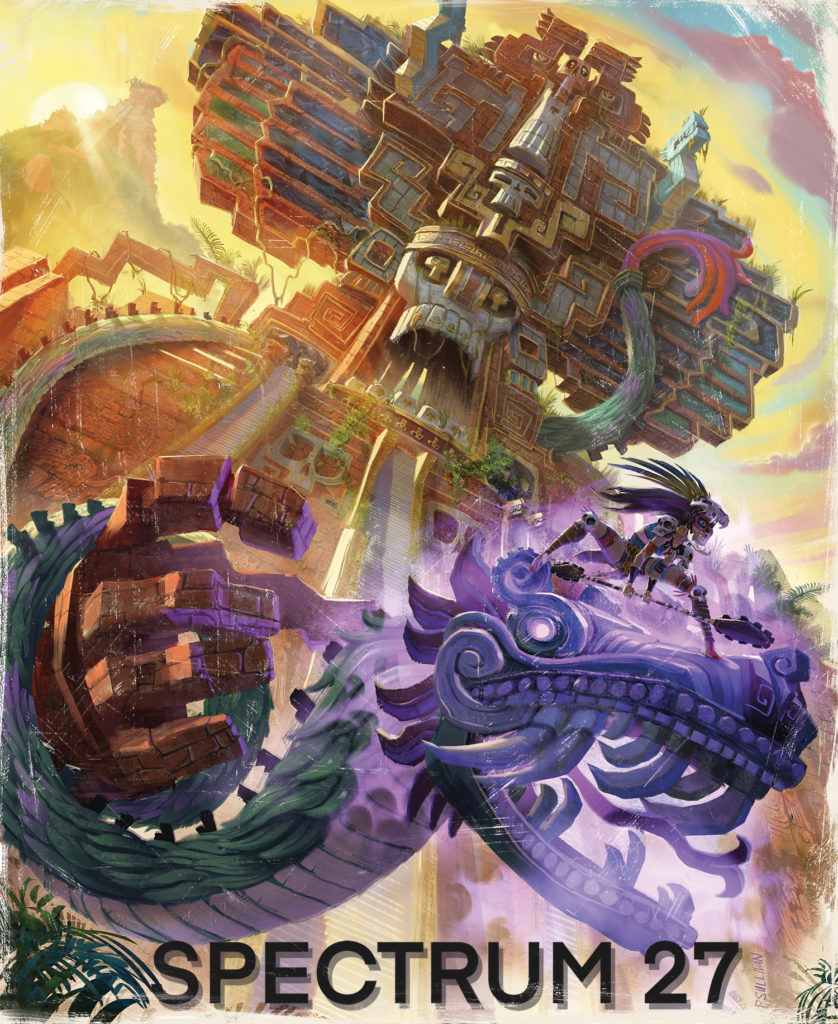 The complete list of artist names selected for inclusion into the twenty-seventh volume of Spectrum: The Best in Contemporary Fantastic Art is now available!
These creators that work in every style and medium–both traditional and digital–represent the finest in the fantasy, horror, science fiction and the surreal genres from around the world. You will find top industry names who serve as the current definition of excellence and discover the rising stars who are being published for the first time.
Individual emails to those artists accepted will begin to go out this week. Full details regarding the next steps will be provided.
From everyone here at the Spectrum and Flesk offices, we would like to thank all of the artists who submitted to Spectrum 27. We couldn't do what we do without your support. This includes putting out the Spectrum annual each year, organizing and running the Spectrum Fantastic Art Live event, putting on the Spectrum Awards Ceremony where we hand out the Spectrum awards, and making the artist feature videos that we post online. You have our most sincere gratitude. Thank you!
Spectrum 27 will be available from Flesk Publications in the fall of 2020 at your favorite comic and book store.
A
Mattias Adolfsson
Alex Alice
Marie Alice
Sam Araya
Steve Argyle
Tommy Arnold
B
Daren Bader
Anna and Elena Balbusso
Wylie Beckert
Ed Binkley
Steven Russell Black
Michael Blank
Paul Bonner
Zoltan Boros
Bruce Brenneise
Brom
Laurie Brom
Alan Brown
Thomas Buchanan
Dmitry Burmak
Wesley Burt
Chris Buzelli
C
DJ Cacouault
Rovina Cai
James Cain
Thomas Campi
Bill Carman
Milivoj Ceran
Lynn Chen
Zhiying Chen
Ian Jun Wei Chiew
Frank Cho
Heonhwa Choe
Yongjae Choi
Jehan Choo
Waiji Choo
Dan Chudzinski
Hilary Clarcq
J.A.W. Cooper
D
Daarken
Jessica Dalva
Galen Dara
Bastien Lecouffe Deharme
Julien Delval
Jie Deng
Eric Deschamps
Peter de Seve
Laura Diehl
Daxue Ding
Anna Dittmann
Daniel Dociu
Terry Dodson
Hope Doe
Dan dos Santos
Allen Douglas
Adam S. Doyle
Chris Dunn
E
Jesper Ejsing
Micah Epstein
F
Diego Fernandez
Thomas Fluharty
Owen Freeman
G
Shaun Gentry
Justin Gerard
Annie Stegg Gerard
Donato Giancola
Gary Gianni
Cory Godbey
Nicholas Gregory
Chuck Grieb
Oleg Gritsak
James Gurney
Scott Gustafson
Breanna Guthrie
Arturo Gutierrez
H
Brian Haberlin
Leesha Hannigan
Wang Hao
Alex Herrerias
Ben Hill
Sija Hong
Alex Horley
John Howe
Te Hu
Steven Hughes
Risa Hulett
Robert Hunt
I
Alina Ivanchenko
J
Tyler Jacobson
He Jie (Mona)
Romain Jouandeau
K
Jim and Ruth Keegan
Edward Kinsella
Tatsuro Kiuchi
Ki Kline
Bartosz Kosowski
Sebastian Kowoll
Maxim Kozhevnikov
Thomas Kuebler
Tami Kuo
L
Mathieu Lauffray
Elizabeth Leggett
Vanessa Lemen
Shuxing Li
Yangtian Li
Kan Liu
Jonah Lobe
John Loren
Travis Louie
Ashly Lovett
Howard Lyon
M
Felipe Machado
Greg Manchess
Finnian MacManus
Michael MacRae
Michael Manomivibul
Patrick Masson
Michihiro Matsuoka
Ben Mauro
Iain McCaig
Chris McGrath
Seb McKinnon
Tara McPherson
Miranda Meeks
Petar Meseldzija
Brynn Metheney
Brett Mich
Aaron Miller
Mike Miller
Christel Morvan
Jason Mowry
Reiko Murakami
Sean Murray
N
John Nadeau
Mark A. Nelson
Daniel Newman
Cliff Nielsen
Tran Nguyen
O
Tim O'Brien
Michael Avon Oeming
James Ortega
Pernille Orum
P
John Jude Palencar
David Palumbo
Dustin Panzino
Andy Park
Amirah Patel
Angi Pauly
Liam Peters
John Picacio
Lucas Pina
Alessandra Pisano
Colin Poole
Kristine Poole
Marc Potts
April Prime
Tim Probert
Vincent Proce
Magdalena Proszowska
Q
Wu Qinghao
Queen Studios
R
Andrea Radeck
Chris Rahn
Henrique Rainha
Omar Rayyan
Red Nose Studio
Rob Rey
Wayne Reynolds
Tooba Rezaei
Olena Richards
Paolo Rivera
Virginie Ropars
Feifei Ruan
Steve Rude
Greg Ruth
Grzegorz Rutkowski
James Ryman
Entei Ryu
S
Karl Deen Sanders
Leonardo Santamaria
Mauro Santini
Axel Sauerwald
Steven Saunders
Chris Seaman
Arantza Sestayo
Claudya Schmidt
Cynthia Sheppard
Allen Song
Baiheng Song
Dug Stanat
Chase Stone
William Stout
Yuko Shimizu
T
Shaun Tan
John Tedrick
Thom Tenery
Agnieszka Trojanowska
V
Olivier Villoingt
Thomas von Kummant
Timothy Von Rueden
Johannes Voss
W
Sam Weber
Jan Wessbecher
Sam White
Allen Williams
Erica Williams
Jeremy Wilson
Bayard Wu
Esther Wu
Y
Lixin Yin
Leif Yu
Z
Amir Zand
James Zaraam
Enzhe Zhao
Fan Zhang
David Zhou
Daniel Zrom
Thanks again everyone!
With our very best,
John and Kathy
Flesk Publications
Flesk Publications on Facebook
Spectrum Fantastic Art
Spectrum Fantastic Art Live
Spectrum Fantastic Art Live on Facebook
Text copyright © 2020 John Fleskes. Photos and videos © 2020 John Fleskes / Flesk Publications. Artwork © 2020 its respective artists. All Rights reserved.