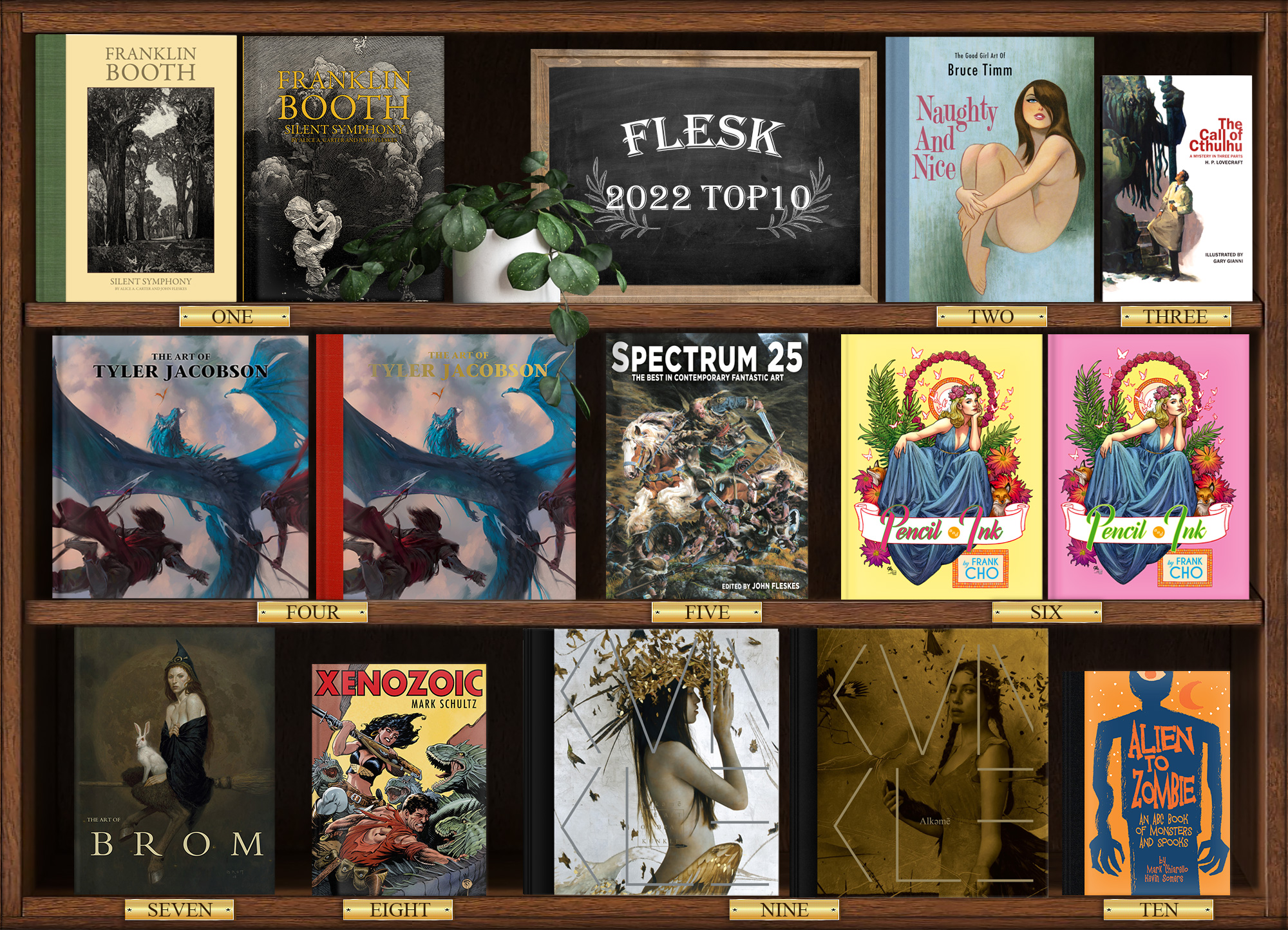 I was talking with Vicky and the subject arose regarding what our top sellers were for 2022. I never sorted out a top 10 list before. Out of curiosity we pulled up the numbers and found ourselves surprised with the results.
We decided to determine the rankings based upon the quantity sold rather than the gross sales. We then combined all of the editions for each title. For instance, paperback and hardcover and limited edition sales were all combined to make one grand total for each title.
Here we go!
1. Franklin Booth: Silent Symphony
Franklin Booth is the clear winner when factoring in both total sales and the total number of books sold. This book did far better than I expected. It came as a complete surprise when the hardcover edition that we offered on Kickstarter sold out. This book served as our Flesk 20th anniversary title and we poured a lot of passion into it. The success of the collection is a testament to just how extraordinary Booth's art is. It's great to see how someone who left us over 75 years ago can remain so relevant to a contemporary audience. And I can't thank Alice Carter enough for her insightful manuscript detailing Booth's life.
2. Naughty and Nice: The Good Girl Art of Bruce Timm
There is no magic formula to knowing how any one of our books will be received. I wanted to see this book back in print and guessed that others may be interested. Bruce Timm's personal naughty drawings remain a bestseller year after year. He is a joy to work with and we have more books in the works together. Our other book with Bruce, The Big Tease, is currently sold out. I'll bring this back to print once the shipping and printing costs drop back down to reasonable levels.
3. The Call of Cthulhu by H. P. Lovecraft. Illustrated by Gary Gianni
This was a very welcome surprise to see this title at the number three spot. This beautifully illustrated book is packed with Gianni's pencil drawings. It's a great value at only $19.95 for the paperback. Marcelo Anciano (editor and designer) and Gary Gianni poured their efforts and time into the creative design and production of this book. It was my pleasure to publish it.
Since we didn't ship this book until 2022, I went ahead and rolled over the Kickstarter pre-orders from 2021 to combine with the 2022 sales. Even if I didn't it would still have made the top 10. A gorgeous book and one that was a delight to work on with Tyler. His art is breathtaking. I'm delighted that he was willing to let us publish a collection of his art. We have some ideas that we are playing around with for a new book that will come out in the future.
5. Spectrum: The Best in Contemporary Fantastic Art
I'm showing the cover for Spectrum 25 by Paul Bonner, but this is a combined entry for Spectrum 21-27. By grouping the sales for all seven volumes this book hits the fifth spot on the list. The sales for all editions for this series jumped in 2021 and 2022. Our distributor blew through the remaining inventory. Each volume is now sold out from our distributor and officially out of print. We have the remaining copies on our website.
6. Pencil and Ink by Frank Cho
No surprise here. Frank has always been a top and a steady seller here at Flesk. This book consists of all of the material that we wanted to add to his big The Art of Frank Cho book, but had to omit for space considerations. I feel satisfied and happy to have been able to share more great Cho art in this book. Frank is one of the best draftsmen in the business. His figure work is astonishing.
Even after almost a decade in print, The Art of Brom rules! We are sold out of the publisher edition and copies here at our office. The last remaining hardcovers are with our distributor and will sell out this year. Brom is a silly and really good guy who happens to draw dark subjects. I hope you have had a chance to read his novels too!
The most common question that we hear at events, in comments and through emails are, "When is new Xenozoic material coming?" My answer to you is that anything Mark wants us to publish–whenever it is done and ready–we will support him and get it into your hands. (Sorry for the politician answer.) We have had this Xenozoic book in print since 2010 and it remains one of our top sellers. This collects everything that Mark has written and drawn to date. It's a terrific story that I enjoy reading over and over.
9. Alkeme: The Art of Brad Kunkle
This book was over 15 years in the making. I met Brad when I was first starting to publish and he was first starting to become a serious painter. We always kept in touch and would visit with one another from time to time. We talked about working with one another for years. We remained patient and let the time present itself to us. The book came out exactly when it was meant to. We never rushed it and remained patient. I am thrilled with how beautiful it looks. The magic square idea that Brad came up with is brilliant and adds to how special this book is. I was reminded of something very important with this book. Brad's collection may be the latest book that I have published, yet it remains Brad's first. I have to work with everyone, and on every book, as if it is the first. The quality of the book always takes precedence over the release date and quantity of titles I publish in a year. I should note that if we determined this list by gross sales, this would jump to the number two spot.
10. Alien to Zombie by Kevin Somers and Mark Chiarello
I think it is pretty well known that it is tough to get published by me and that I do not take book proposals. A big part of this is because I made the conscience decision to keep this company small. That limits how much I can do in a year. When I received the email from Mark asking if I was interested in publishing this book it took me less than a minute to reply with a "yes!" Getting to work with Mark and Kevin was a dream. I absolutely love this book and am proud to have had the chance to publish it.
Honorable Mentions
Now it's time for some honorable mentions. The Big Tease by Bruce Timm and Ballpoint Beauties by Frank Cho may have been on the top ten if not for both titles selling out earlier in the year. I have plans to reprint both as soon as the supply chain issues have calmed down and shipping prices have subsided.
Next up is Covenant by Allen Williams. This book was a big seller in 2021. It's nice to see it still being appreciated during the second year after its release. The Thousand Demon Tree by Jeffrey Alan Love was also popular. It would surely have had a higher ranking if it did not sell out at our distributor. I have plans to reprint this alongside Jeff's next book that we will publish later this year.
The Art of Elfquest and Line of Beauty: The Art of Wendy Pini are also nice perennial sellers. These two books, along with Elfquest: The Art of the Story, comprise of over 900 pages of gorgeous art by Wendy. What a thrill to have published these important and lovely collections.
The final book that I'll note is Art of Gary Gianni for George R. R. Martin's Seven Kingdoms. This is another magical collection put together by the editor and designer, Marcelo Anciano, and the artist, Gary Gianni. These two have packaged some extraordinary books and make quite the team. Again, this represents another time when I was lucky enough to publish a book by two people who I admire.
Looking forward to this year, we have The Art of Rachel and Terry Dodson, The Art of Arthur Adams, Carbon 5 by Mark Schultz, and Gilt: The Art of J.A.W. Cooper—all of which are done. Barren Lands by Brynn Metheney is close to completion. Another book in development is the three volume Comics set by William Stout. I'll announce release dates and share more details on all of these in the future.
Thank you so much for making 2022 a special one. You all make this possible and you have our gratitude.
All my best,
John
Flesk Publications
Flesk Publications on Facebook
Flesk Publications on Instagram
Text copyright © 2023 John Fleskes. Photos by Vicky Lien and John Fleskes and © 2023 . Videos © 2023 Flesk Publications. Artwork © 2023 its respective artists. All rights reserved.