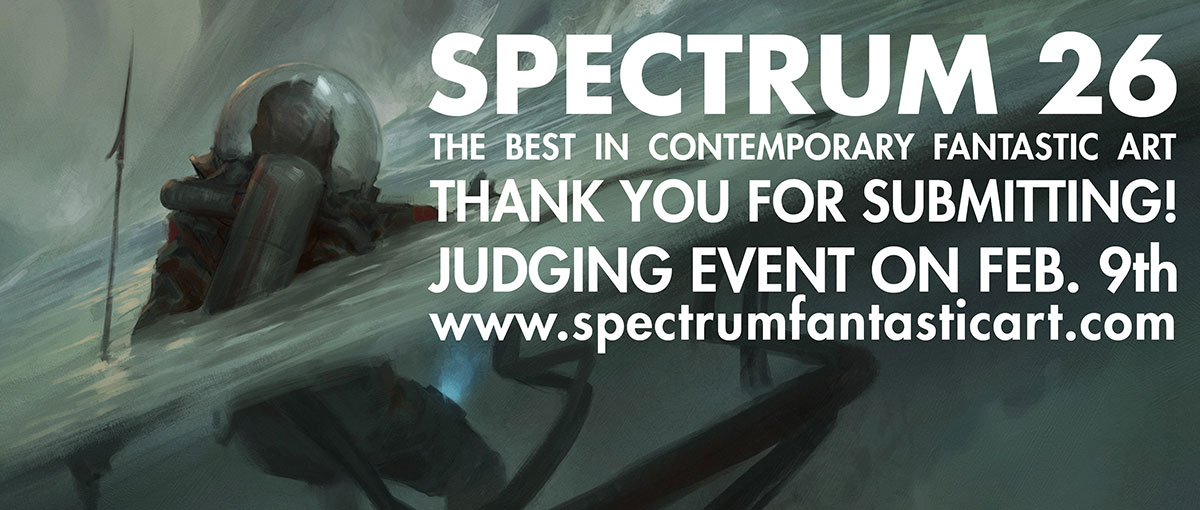 Thank you again to everyone who submitted artwork to Spectrum 26 this year! We are excited to present your work to the judges this upcoming Saturday, February 9th at our Flesk offices in Santa Cruz. We will be hosting this year's panel of judges consisting of Kei Acedera, Wesley Burt, Bobby Chiu, Edward Kinsella III, and Colin and Kristine Poole who will be reviewing the Spectrum Call for Entries submissions.
The first phase of the day consists of the judges voting anonymously on the works they feel have achieved a standard of excellence for inclusion into the book. A majority consisting of three of more votes from the five member panel guarantees the art for inclusion into Spectrum 26. This year, Colin and Kristine will be voting as a pair.
Phase two of the day brings the jury together for a group discussion to determine the silver and gold awards nominations for each of the eight categories.
We feel that it is essential to have a group of diverse and exceptional artists working together to select the art for Spectrum. Together, they represent all aspects of the art industry and community. This is important because the jury is an example of what Spectrum stands for: a community working together to help create a collection of art to inspire others.
We have spent the last few days cleaning our office and turning into a studio space for our judges. We will have everything set up in time to welcome the judges and will be excited to share the day's activities with everyone during the event as well.
We wish everyone luck!
John and Kathy
Flesk Publications
Flesk Publications on Facebook
Spectrum Fantastic Art
Spectrum Fantastic Art Live
Spectrum Fantastic Art Live on Facebook
Text copyright © 2018 John Fleskes. Photos and videos © 2018 John Fleskes / Flesk Publications. Artwork © 2018 its respective artists. All Rights reserved.