Frank Cho and I have partnered again to create his latest art book Ballpoint Beauties! This book is available as an affordable paperback and hardcover, and as a premium signed deluxe edition. Luxurious signed prints are also available. Enjoy the samples and details below.
We have a Kickstarter campaign running where you can pre-order the book. Everyone who makes a book or print pledge will receive an exclusive free postcard set.
You can see the full details by following this link:
https://www.kickstarter.com/projects/481703930/ballpoint-beauties-by-frank-cho
The campaign ends on Thursday, November 15th at 8:00pm PST.
Ballpoint Beauties is 120 pages at 9 x 12 inches and includes two gatefolds. This book has been Frank Cho's most requested collection on social media over the past year. He has been making his personal ballpoint pen drawings purely for himself for over two decades. This is the first time that these rarely seen works have been captured into a dedicated volume. Compiled here are his favorites, many which are done recently specially for this book. Many pieces are shown in four stages that are accompanied by Frank's commentary to reveal his process. He is completely self-taught which makes for a unique and educational experience.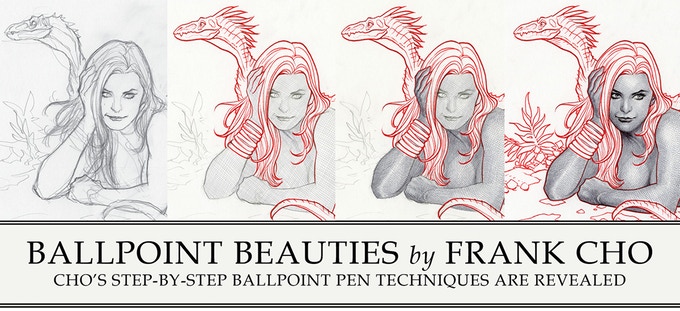 Included within the book are visual guides for anatomy and body parts, plus a short interview where Frank discusses his working methods and answers the most common questions that he receives online. Also shown are comic covers for his creator owned property Skybourne, where he has incorporated ballpoint pen in a mixed media format to show you how to incorporate the ballpoint pen into commercial assignments.
Thanks to everyone who has supported this book!
Enjoy,
John
Flesk Publications
Flesk Publications on Facebook
Spectrum Fantastic Art
Spectrum Fantastic Art Live
Spectrum Fantastic Art Live on Facebook
Text copyright © 2018 John Fleskes. Photos and videos © 2018 John Fleskes / Flesk Publications. Artwork © 2018 its respective artists. All Rights reserved.