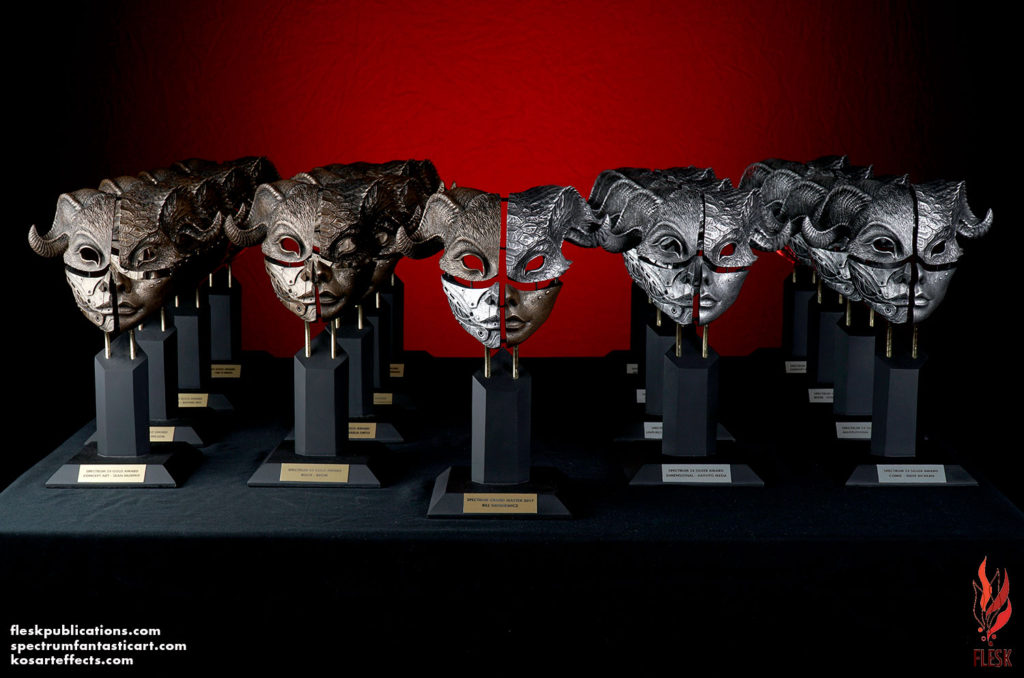 As part of its 25th Anniversary celebration, the awards for Spectrum 25 will be presented at a gala ceremony at the historic Brookledge Theater in Los Angeles, California on Saturday, May 5th. Both exclusive and intimate, the Brookledge is a unique venue operated by the owners of LA's legendary private club for professional magicians, The Magic Castle.
Because the Brookledge's size is intimate this is an invitation-only event; seating for the ceremony is strictly limited to 70 and is completely booked. The doors will open at 6:30pm for those who are on the reservation list; the ceremony will begin promptly at 8:00pm.
The award finalists for Spectrum 25 were selected by a blue-ribbon jury consisting of Terry Dodson, Tyler Jacobson, Tran Nguyen, Karla Ortiz, and Charles S. Pyle. During the ceremony the 2018 Rising Star recipient, the silver and gold winners for Spectrum's eight categories, and this year's Grand Master Award honoree will all be announced.
The evening schedule will include the following esteemed speakers and presenters:
Master of Ceremonies—Bob Self
Rising Star Award—Colin and Kristine Poole
Advertising Category—Te Hu
Book Category—Tim O'Brien
Comic Category—William Stout
Concept Art Category—Craig Elliott
Memorial—Arnie Fenner
Dimensional Category—Brynn Metheney
Editorial Category—Paul Sullivan
Institutional Category—Karla Ortiz
Unpublished Category—Alina Chau
Grand Master Award—Iain McCaig
Spectrum Appreciation—John Fleskes and Arnie Fenner
For those attending the event, the Brookledge Theater is located in a residential neighborhood at 929 S. Longwood Ave., Los Angeles, CA 90019. Please check in at the left side entrance of the property to be escorted to the theater. Street parking is limited. Uber, Lyft, or carpooling is encouraged.
The nominated works, along with the complete selections of the jury, will be featured in Spectrum 25: The Best in Contemporary Fantastic Art published by Flesk Publications in the fall of 2018.
Flesk Publications is distributed to the trade by Publishers Group West. You can learn more about Spectrum at the official website: spectrumfantasticart.com
We look forward to seeing everyone on this magical evening!