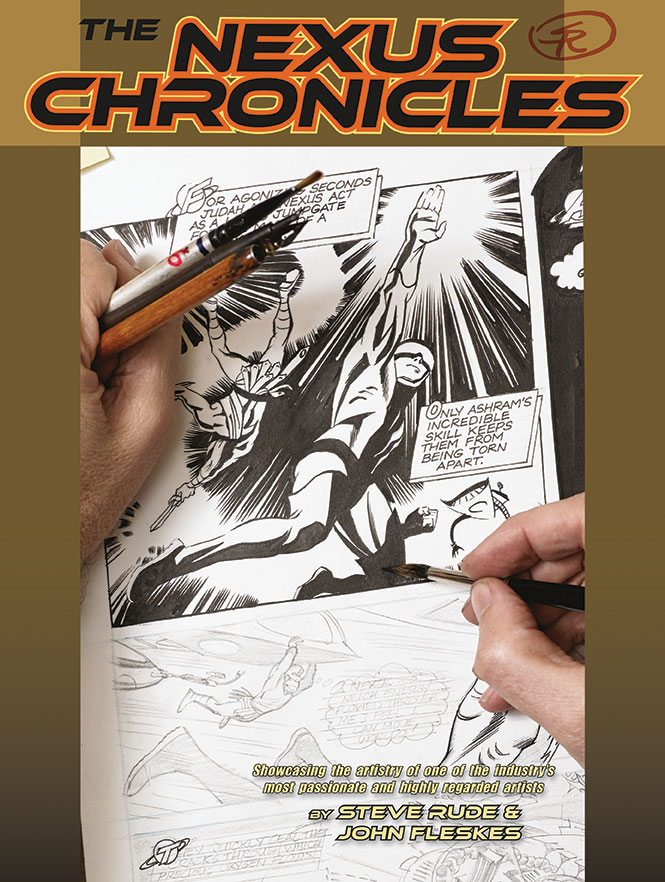 Many of the projects that I work on are sparked during a simple dialogue. The Nexus Chronicles was initiated in this way. I was talking with Steve Rude over the phone in 2013, probably about some new illustration book that came out or his giving me a motivational talk, or going back and forth about projects we are working on–all of which are regular conversational themes–when one of these sparks caught my eye.
To put this spark in its proper perspective it's necessary to talk about how I'm inspired by the packaging of certain French Albums. In particular Soleil published a special edition of Belladone in 2004 that showcases the art of Pierre Alary. Included are the preliminary penciled pages and rough layouts alongside the finished inks for the entire story. It was done in an elegant design and still remains a favorite book of mine.
Going back to the phone call with The Dude, the topic of the preserved copies of his pencil work came up, as did the possibility of the inks being accessible to some of our favorite stories that he inked. That's when I initially brought up the idea of The Nexus Chronicles.
This book also coincided with the decision by Steve and his wife Jaynelle to sell the originals for the four issue Next Nexus story. This comes to about 100 pages inked by Steve. Issue #1 was sold as a set, while the rest were broken up and sold as individual pages. While the pages were still accessible, they were scanned for archival purposes. It was natural for me to propose the idea that we reproduce Next Nexus in its entirety with its pencils side-by-side the inked pages.
After discovering the other Nexus stories that were accessible in its original form we decided to focus on a more overreaching look at Nexus by including Nexus: Wages of Sin #1 and Next Nexus #1, both of which are shown with their pencil and finished inked forms facing one another to highlight the process. Nexus #50 and the rarely seen eight-page "All in Sundra" are reproduced from their inked originals. Also featured is the previously unpublished Nexus #99 in pencil form and the fully painted Sundra story "When She Was Young," and more. The book comes to 304 pages. It's a mighty fine collection.
A few stories showcase a story in pencils and inks to show the process, some as just pencils and others solely in its final form. This was Steve's idea to allow a contrast and variability to the presentation to make the book more interesting. I have to agree, it was a good call.
My favorite story reproduced is the unpublished Nexus #99 story that was abandoned after Steve completed the pencils. This was intended to be the first of a four issue series that would be published by Dark Horse Comics. Unfortunately, the series was cancelled due to low overall sales of Nexus. Steve was informed prior to finishing issue #1, yet he decided to finish it on his own accord. I first saw these originals when I was working with Steve on Artist in Motion. I made a vow to myself to find a vehicle to get this in print one day. If Next Nexus was the catalyst for a collection, "The Root of Evil" was the foundation.
The Nexus Chronicles represents a promise to myself, a format I've been longing to design and featuring an artist whose work I am passionate about. I'm very pleased with this combination and the outcome of the book.
As with most artists that I know there is no clear date for how long I've known them. For instance, I was first introduced to Steve Rude in 1985 through the early Capital published comic book Nexus. I met him for the first time in person when he made an appearance at Wondercon in San Francisco in 1997. Then I have known him since 2004 which is when we first talked about working together during the San Diego Comic Con. This led to our first book Artist in Motion, which was published in 2007.
Regardless of how long we've known each other, this book has been in the works since 1985. I just didn't know it at the time.
The Nexus Chronicles is off the press and is shipping to our distributor. I expect our copies to arrive in June. Everyone who buys a copy direct from Flesk will receive a free signed print. More details on this coming soon! Pre-order the book here.
Enjoy,
John
Flesk Publications
Flesk Publications on Facebook
Spectrum Fantastic Art
Spectrum Fantastic Art Live
Spectrum Fantastic Art Live on Facebook
Text copyright © 2016 John Fleskes. Artwork © 2016 its respective artists. All Rights reserved.