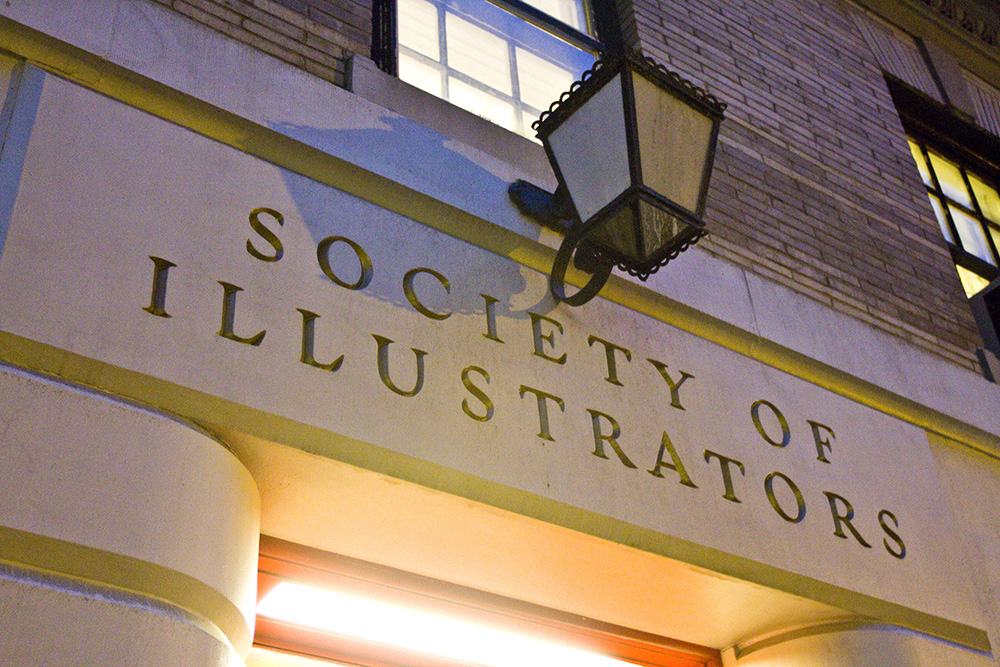 FOR IMMEDIATE RELEASE
CONTACT: JOHN FLESKES/Director Spectrum Fantastic Art
http://www.spectrumfantasticart.com
408-206-2346
Announcing the Spectrum 23 Awards Ceremony & "Spectrum Fantastic Art Live 5" Date Change
Santa Cruz, CA, February 4, 2016 – With the goal of continuing the tradition of a spring awards ceremony, Director John Fleskes has announced that the honors for Spectrum 23 will be presented at a gala to be held at the historic Society of Illustrators in New York City on May 7, 2016. "For the previous four years, we were able to hold the awards ceremony in conjunction with the 'Spectrum Fantastic Art Live' convention," says Fleskes, "but the plans to move the show to San Francisco prevented our doing that in 2016. Celebrating the achievements of the artists and providing an opportunity for the community to gather have always been our top priorities, and there is no better place to accomplish both than at the Society of Illustrators."
The ceremony will be held on Saturday evening from 6 to 10 p.m. A complimentary small-plates buffet will be offered to attendees, and a cash bar will be available. Along with the presentation of Gold and Silver Awards in Spectrum's eight categories, a memorial video will be shown, and the 2016 Rising Star and Grand Master honorees will be announced. Seating will be limited, and attendees will be asked to RSVP at a site to be announced the first week in April. The Spectrum awards are once again being sculpted and cast in bronze by Colin and Kristine Poole.
"The second announcement, after much deliberation with the Spectrum Advisory Board, is that we're moving the dates for 'Spectrum Fantastic Art Live 5' to May 2017," adds Fleskes. The event was originally planned for October 2016 in association with The Academy of Art University in San Francisco. A number of logistical issues could not be resolved, however, and the school will no longer be involved with the show in an official capacity. "We have a wonderful relationship with the university and instructors, and we look forward to continuing our collaborations with them in the future," explains Fleskes. "A May date is preferable for many of our exhibitors and attendees, and the school's schedule is full in the spring. We also want to hold SFAL5 in a space that is more convenient and inviting for everyone. Accessibility and amenities were both limited at the facility we had originally intended to use, which necessitated reconsidering our plans."
Several exciting venues in San Francisco are currently under review. The intention is to announce the location and dates and to start taking booth reservations in early May. Spectrum co-founder Arnie Fenner says, "Anyone who attended any of the first four shows in Kansas City knows that, first and foremost, we care about the details of the event and the experiences of exhibitors and attendees alike. In order to do SFAL5 properly—in order to grow the opportunities for the artists and the community as a whole—it is taking us a little extra time to ensure that we get off on the right foot in a new city. Trust me when I say that SFAL5 will only be better with the few additional months we'll be able to devote to its planning. Cathy, John and I will all be in New York for the awards ceremony on May 7 and look forward to answering any and all questions about the big show—as well as other activities we have planned in the future."
Spectrum: The Best in Contemporary Fantastic Art is the award-winning and internationally renowned art-book annual established in 1993 by Cathy and Arnie Fenner. The contents of each book is determined by a competition that is open to all artists. A jury of peers—different each year—selects the best works from those entered for inclusion in the book and presents awards in eight categories.
The prestigious Museum of American Illustration at the Society of Illustrators in New York City has hosted three exhibitions dedicated to Spectrum, shattering its special-event attendance records. It is a sponsor of "Spectrum Fantastic Art Live," a yearly convention devoted to creators of all disciplines and sensibilities. Spectrum is published annually by the Santa Cruz-based Flesk Publications and is distributed globally by Publishers Group West.
To learn more about Spectrum, visit www.spectrumfantasticart.com.
For more information, contact:
JOHN FLESKES / 408-206-2346.
Spectrum Fantastic Art, 2871 Mission St., Santa Cruz, CA 95060
Flesk Publications
Flesk Publications on Facebook
Spectrum Fantastic Art
Spectrum Fantastic Art Live
Spectrum Fantastic Art Live on Facebook