Hi, all,
Next week we will be launching a new Kickstarter campaign for a trio of stunning hardcover deluxe limited edition books that will focus on Wendy Pini's entire career. The Art of Elfquest, The Art of the Story: Elfquest and Line of Beauty: The Art of Wendy Pini combined make up over 900 pages of her works reproduced direct from the Pini archives.
We are working on building the campaign page and making the promotional video right now. You're going to love the bonus goodies that we have in store for our supporters.
More details coming soon.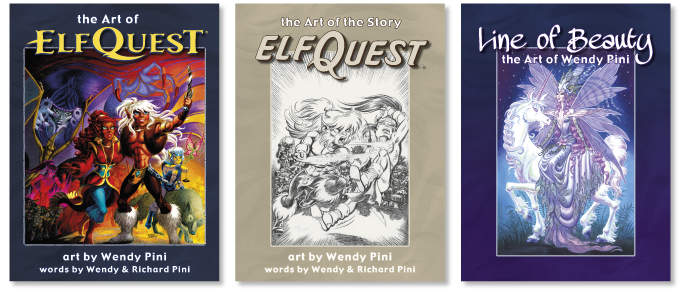 Enjoy,
John
John Fleskes
Flesk Publications
Flesk Publications on Facebook
Spectrum Fantastic Art
Spectrum Fantastic Art Live
Spectrum Fantastic Art Live on Facebook
Text and photographs copyright © 2015 John Fleskes. Videos © 2015 Flesk Publications. Artwork © 2015 its respective artists. All Rights reserved.