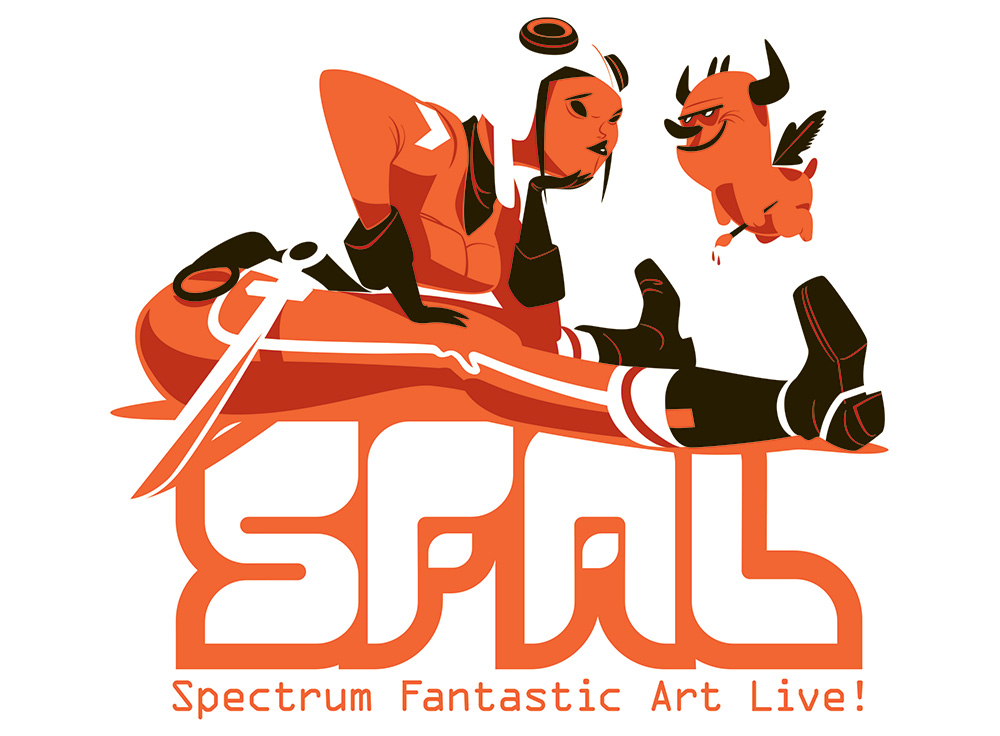 (Jump straight to the Kickstarter campaign by clicking here.)
John Fleskes, president and publisher of Flesk Publications, teams up with renowned portrait photographer Greg Preston to produce a special book created on the showroom floor of the Spectrum Fantastic Art Live event, held May 9-11th in Kansas City, Missouri.  Sessions: Spectrum Fantastic Art Portraits will feature the art, a brief bio, and a portrait created by Greg Preston of at least 50 of the creators behind today's best contemporary fantastic art.
This project is a singular opportunity that YOU can make happen, and as an added bonus you are invited to witness its creation.  John Fleskes is sponsoring the project through Kickstarter, and the chance to be a part of this unique art book begins NOW.  The amount needed to make Sessions a reality is $9,000 and this Kickstarter project offers several pledge levels to choose from, each with special items attached to thank you for being a backer.
Publisher John Fleskes explains: "I have invited noted portrait photographer Greg Preston and his crew to SFAL to set up a photo studio right on the show floor to take artist portraits throughout the event. With the permission of the artists, Greg and I will choose our favorite portraits and make a high-end, fine art style book collection. I really want to show the people behind the pictures; those who give us so much beauty, who entertain us and who fill our lives with wonder. Let's celebrate the artists and who they are, which goes right along with the mission of the Spectrum Fantastic Art Live event: The artists are the stars and let's showcase them in the best possible light."
Artists to be included in the project include:  Allen Williams, Annie Stegg, Bill Carman, Camilla d'Errico, Cory Godbey, Craig Elliott, Dan dos Santos, Daren Bader, David Palumbo, Donato Giancola, Edward Howard, Frank Cho, George Pratt, Greg Spalenka, Iain McCaig, Jackson Robinson, J. Anthony Kosar, John Picacio, Justin Gerard, Justin Sweet, Mark Chiarello, Mark Schultz, Omar Rayyan, Paul Bonner, Rebecca Yanovskaya, Steve Rude, Terry Dodson, The Shiflett Brothers, Tim Bruckner, Virginie Ropars and Wayne Barlow.
If stretch goals are met, even more artists may be included in the book.
In addition to the opportunity to bring this project to fruition, you can attend Spectrum Fantastic Art Live and witness Greg Preston work directly with the artists.  It is open to the public.  This is an amazing opportunity for you to see your book being created, and meet the artists who will grace its pages.
In the event that you need more incentive to come on board, Flesk Publications is noted for the quality and craftsmanship of the art books they have created in their twelve years of business.  The book you are helping make will itself be a work of art, created by a publisher with a passion for fantastic art and the artists who create it.
(Visit the Kickstarter campaign by clicking here.)
Enjoy,
John
John Fleskes
Flesk Publications
Flesk Publications on Facebook
Spectrum Fantastic Art
Spectrum Fantastic Art Live
Spectrum Fantastic Art Live on Facebook
Text and photographs copyright © 2014 John Fleskes. Artwork copyright © 2014 its respective artists. All Rights Reserved.