Hi, all,
I'd like to fill you in on our Flesk releases for 2014 and what books we have in development for 2015.
These last seven months have been a thrilling experience. Transitioning Spectrum over to Flesk has given me the same excited feeling that I had when I first started Flesk Publications back in 2002. The internal restructuring here has been a tremendous amount of work, but the benefit today is that I have 12 years of publishing business experience to make far better decisions than when I started in 2002. The opportunity to work on Spectrum not only allowed me the fun of completely rethinking the process of how the annual is run and produced, but it also made me look at the processes here at Flesk. I placed my high standards on myself, asked many tough questions, and as a result I made a series of improvements here. The result will be a continuation of our high quality books, with many new faces as part of the Flesk team to help out. The improvements have been so great, that it feels as if I am walking into the business for the first time.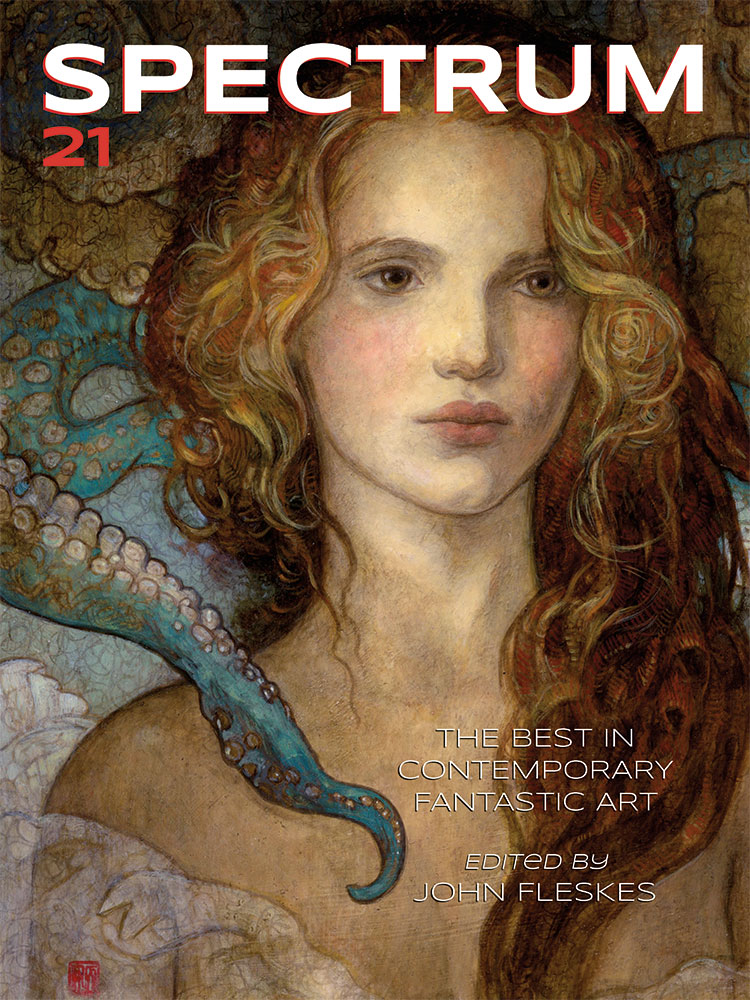 2014 Flesk Titles
1. Spectrum 21: The Best in Contemporary Art
Spectrum is more than just a book. It is a community, a brand and an event which requires nurturing and focus all year long. A few friends of mine expressed their concern that by my taking on Spectrum that it would interrupt the Flesk line of books. "It would be disastrous if Spectrum affected the Flesk line," said one artist who I publish. I agree, which is why this is the only year where you will see this reduction of releases while we restructure and grow. Spectrum 21 will be released in November 2014.
2. Drawing Beautiful Women: The Frank Cho Method
This is another fun book. Frank Cho and I have known each other for over a decade, but never worked together before. I'm finding the experience to be a blast. This book is right on schedule for an October 2014 release date.
In Development for 2015
1. The Line of Beauty: The Art of Wendy Pini
This book will focus on Wendy's stellar work outside of ElfQuest including comics, illustration and private art with a detailed biography exploring every facet of Wendy's passion for telling stories. All traditional artwork is being reproduced from the original art.
2. The Art of Elfquest
This collection will highlight key covers, story pages, portfolio plates and rarely seen images from its earliest days to today.
3. The Book of Giants by Petar Meseldzija
A story highlighted with dozens of new drawings and paintings. Petar is working intensely on this book and I'll have more information to share in the next few months.
4. The Art of Nexus by Steve Rude
We have spent over two years collecting scans of full Nexus stories from the original art and we are now ready to design the book. This one is very close to being ready and we expect to run a Kickstarter campaign on this during the summer.
5. The Moth by Steve Rude, Gary Martin and Glenn Whitmore
The Moth is coming back! New stories are in the works. The next four issues are mapped out and this is an exciting opportunity for me to publish a comic that I am extremely passionate about.
6. The Comic Art of William Stout
This is another book that has been in development for a few years. Tracking down and scanning the art to include in the book has been a pleasure. We're getting closer to being ready to start designing the book. I'm confident that this will be ready by the fall of 2015.
7. Sessions: Spectrum Fantastic Art Live Portraits by Greg Preston
A new book featuring the photography of Greg Preston highlighting fifty creators behind todays best contemporary fantastic art. I'll share the link to the Kickstarter campaign for this later this week.
8. Storms at Sea by Mark Schultz
Yes, it's true. Not a hoax; not a dream! Schultz is threatening that the art is nearly done. After five years in development, we are looking at a 2015 release date.
9. Mark Schultz Various Drawings Premium Hardcover Collection
All five volumes of Various Drawings combined into a deluxe oversized collection. Mark and I have some big ideas to make this far more than a simple collection.
10. Plus, I'm working with Terry Dodson, Gary Gianni, Gregory Manchess, Iain McCaig, Jackson Robinson and Jim Silke on new ideas. Their titles will be announced once we have the books fleshed out further.
11. I'm also packaging three books for various institutions. I'll announce who the books focus on once I have permission to share the details.
12. Spectrum 22
The annual collection arrives in stores in the fall of each year.
This will carry us through the end of 2015!
Thanks to everyone again for your interest. These books and projects in no way could be possible without your support.
Now it's time to get back to work!
Enjoy,
John
John Fleskes
Flesk Publications
Flesk Publications on Facebook
Spectrum Fantastic Art
Spectrum Fantastic Art Live
Spectrum Fantastic Art Live on Facebook
Text and photographs copyright © 2014 John Fleskes. Artwork copyright © 2014 its respective artists. All Rights Reserved.