We had our second "An Evening With Flesk Prime" on October 24, 2013 in Breda, The Netherlands. This private dinner was held at a luxurious restaurant in a secluded area of the city. A natural barrier of native trees sheltered us from the sounds and sights of modern day civilization. It was the perfect setting for our intimate dinner with the artists and patrons. The evening was arranged by our stalwart friend, Mark Thelosen. Thanks to Mark for his excellent restaurant selection and for making the evening run so smoothly.
I came up with the idea of An Evening with Flesk Prime a few months prior to our 2011 visit to the Strip Festival in Breda. I oftentimes have the opportunity to have small group dinners with the artists and thought it would be fun to make a special dinner available to a small group of fans. With the 2011 inaugural evening a success, we decided to hold a follow-up dinner two nights prior to the 2013 Breda event.
I would like to thank our local patrons who partook in Flesk Prime. We all thoroughly enjoyed your company, conversation and laughs. We were pleased to see the many repeat attendees and to have the opportunity to meet the new gentlemen who joined us.
I also want to pass along my gratitude to our special guests: Terry & Rachel Dodson, Petar Meseldzija, Mark Schultz, Jim Silke and Thomas Yeates. The following are pictures from the dinner.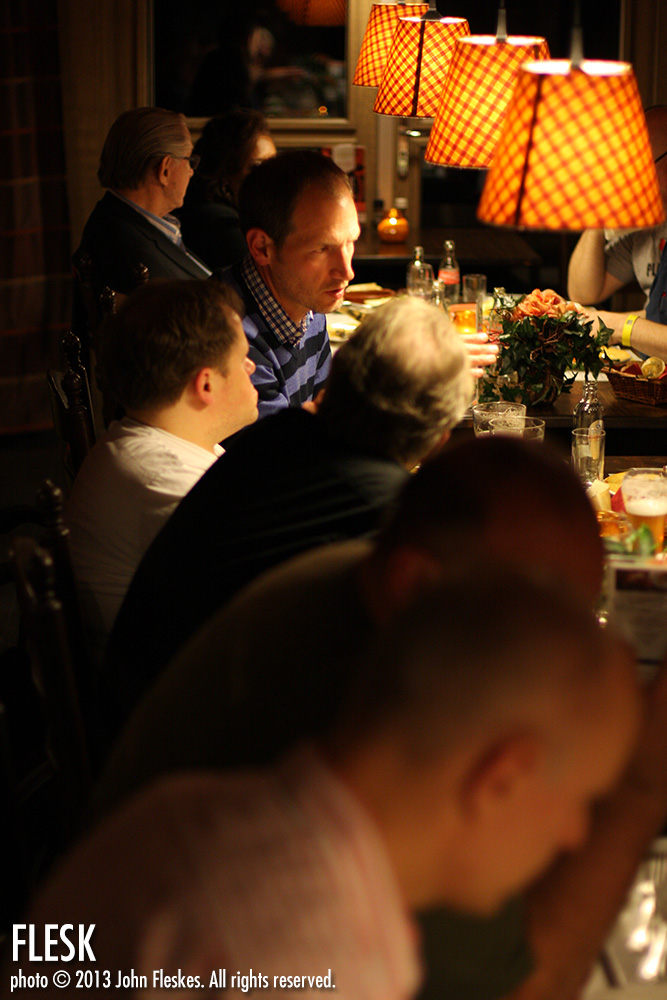 Sorry, Petar! The pictures of you from the night didn't come out good. But, for our Petar Meseldzija fans, I have plenty of unseen pictures of Petar that I'll be sharing on my blog soon.
Enjoy,
John
John Fleskes
Flesk Publications
Flesk Publications on Facebook
Spectrum Fantastic Art
Spectrum Fantastic Art Live on Facebook
Text and photographs copyright © 2013 John Fleskes. All Rights Reserved.