Comic-Con 2013 turned out to be our best show ever in terms of book sales and meeting new people. The crowd size was the same as previous years–since the ticket sales are limited to the hall size, fire and safety codes–yet it felt four times busier at our booth. It made me feel good that the awareness and interest for our books has grown.
Many of our titles sold strong and steady. These included all of our new books: Bruce Timm Naughty and Nice 2013 Teaser, Mark Schultz: Carbon, The Art of Brom, Xenozoic new cover edition by Mark Schultz and the Wendy Pini Teaser that includes material representative of the two books that are in development, The Art of Elfquest and Line of Beauty. Also, all of our previous titles sold steadily throughout the show.
One thing I'll admit to is that I sometimes flip my badge around so people don't automatically know who I am. This gives me an opportunity to ask people a lot of questions to find out why they like our books, what they don't like and what they want to see in the future. I have a clear vision of what I want to do, yet it is important to hear raw feedback from people and to not get lost in my own ego. Keeping an open mind, and exhibiting at shows gives me a direct line of communication to those who support us.
And now this same listening approach applies to Spectrum Fantastic Art, too. As the new director I have been asking artists a lot of questions. A handful of responses that I heard when the Spectrum name came up was, "Oh, yeah. I've seen that magazine." This lets me know that I've got some work to do to. It's my job to help better define what Spectrum is to the general public.
After having such a terrific year, I can look back on Comic-Con in 2011 to see how some decisions made back then helped for 2013. While driving home after the 2011 convention, I realized my attitude toward the show was on the decline. I was debating if the event was still worthwhile to exhibit at. I considered the costs, time preparing for the show, a week spent in San Diego instead of the office and the effort placed in catching up after my return. It amounts to about three weeks of energy that could be used to make a new book.  I was burnt out on Comic-Con and I needed to do something about it.
I wanted to get excited about going again. So, for 2012 I hired extra staff and left the booth to my friend James to run. I spent 90% of the time away from the booth. I went to panels, walked the show, bought a few things for myself and had a really great time. I hear a lot of complaints that the show is not about comics anymore. I've been guilty of thinking that way as well. I grew up reading and enjoying comics. Without comics, I would not have formed my passion for art and books and would never have started Flesk Publications. The thought of Comic-Con moving away from comics bothered me. But as I walked around the show, out of my isolated booth where I typically spend 95% of my time, I found there to be a lot of things going on about comics. And the show promotes them heavily in the souvenir catalog, program guide and panels. I discovered for myself that it is still a comic show after all. And I couldn't dismiss that three artists I work with, Gary Gianni, Mark Schultz and Jim Silke were guests and properly recognized for their contributions to the comic field.
It turned out that our 2012 booth sales were a below average year for us. We did better at the Spectrum Fantastic Art Live show earlier that year with 2% of the crowd. But, finances are not the main reason why I exhibit at this show. (More on this later.) However, I was reinvigorated with Comic-Con and eager to sign up for the next year. My passion was renewed and I felt great all this year.
There are five main reasons why I exhibit at shows.
1. Promotion. It's essential to create a presence for Flesk and for the artists I publish, and that I have an opportunity to meet people and share what we do with them.
2. Meet the artists in person. I met Gary Gianni, Steve Rude, Mark Schultz, Jim Silke, William Stout and a host of other people I work with at Comic-Con. Shows provide a rare accessibility to artists and many opportunities arise there that can pay off three or five years from now.
3. Get inspired! Walking the show and seeing what others are doing is fuel that can last for months.
4. Grow. Panels, business meetings and talking with our supporters helps me make decisions for the future and it provides me with the knowledge to keep me on track.
5. Sell books. I love selling books, packing books, shipping books and getting them into the hands of those that support us. I'm not selling product that I bought for resale. I am selling books that we made, oftentimes that took months or years to create that I was heavily involved with and am passionate about. When someone buys one of our books I am especially grateful since it allows me to continue making more books, and pay royalties to the artists that goes toward the creation of new works.
At Comic-Con, my show costs run between $8-9K and I don't always break even. But, considering the benefits of 1-5 above, the costs are well worth it. Anyone in this business who looks at just the money at the end of the day isn't thinking long term.
Not all shows are worth setting up at. I do my homework before considering any show. I can't afford to spend time away from the office that does not add the majority of benefits 1-5 that I stated above. I talk to fellow exhibiters who have set up at certain shows to gauge whether or not I will exhibit. The shows where we exhibit on a regular basis are those that I have found give us the maximum benefits.
And Comic-Con has consistently been a show that I consider to be of the utmost importance that I be a part of it. I mentioned earlier that at one point I was not eager to attend Comic-Con. Getting out of the booth and having fun again last year was a big help. Another was that I realized if I wanted to see change that I had to be the change that I wanted to see. I recognized what it was that was bothering me and I addressed it. It paid off for this year, since being positive kept me invigorated and energetic throughout the show. (Well, most of the time at least.) I was at the booth 90% of the time and enjoyed being there.
This is an excellent time to shift gears to talk about the show this year.
As I mentioned before, the Flesk booth was rocking this year. We have never been so busy at a show–ever. I brought three guys with me to help full time, and we had Brom and Mark Schultz there each day. Jim Silke was with us for half the day on Thursday. Usually the crowds come in waves and we might get brief moments to talk among ourselves. This year there were no still periods. I brought twice the number of books that I normally do. I had a "feeling" about this year. The two successful Kickstarter campaigns, one with Brom and the other with Mark Schultz, the popularity of the Bruce Timm books, the recent Spectrum transition news, combined with all of the artists I work with gave me the gut feeling that this would be our year. And it was. If I brought my usual stock we would have been sold out by Friday at noon. I always listen to my gut.
During my few moments away from the booth I managed to squeeze off a few pictures of my neighbors. Let's take a walk together.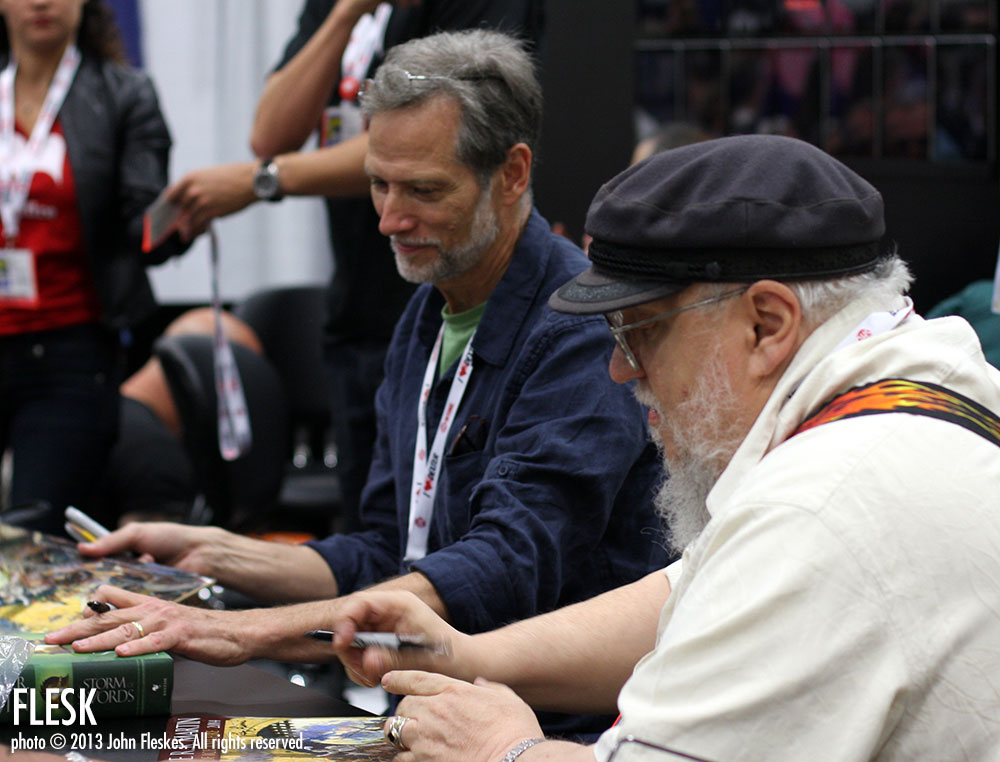 Here is Gary Gianni and George R.R. Martin signing the 2014 Games of Thrones calendar at the Madefire booth. This was one of two signings for Martin and the fans came in droves.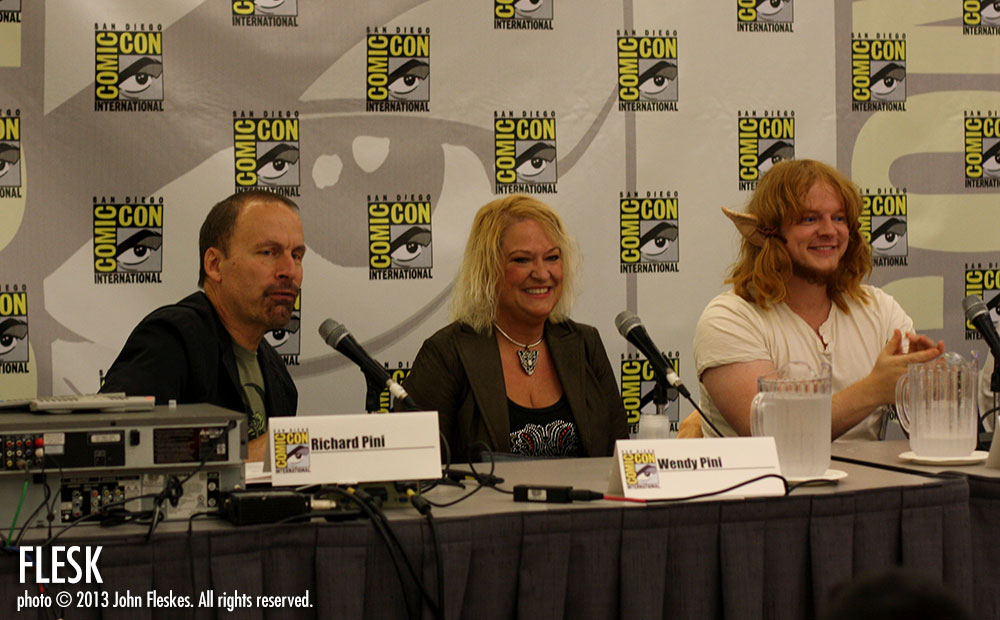 Richard and Wendy Pini, with the managing editor at boingboing.net, Rod Beschizza, during the 35 Years of Elfquest panel. Richard announced a range of new Elfquest projects, including The Final Quest which will be published by Dark Horse. Plus, our Art of Elfquest and Wendy Pini: Line of Beauty collections that are in development.
Richard and Wendy Pini with a group of fans after the Elfquest panel. One thing that impressed me during the panel was when they opened the floor to questions; it wasn't questions that they received. Instead, fans expressed their heartfelt passion for Elfquest and how the series and characters have impacted their lives. It was quite moving.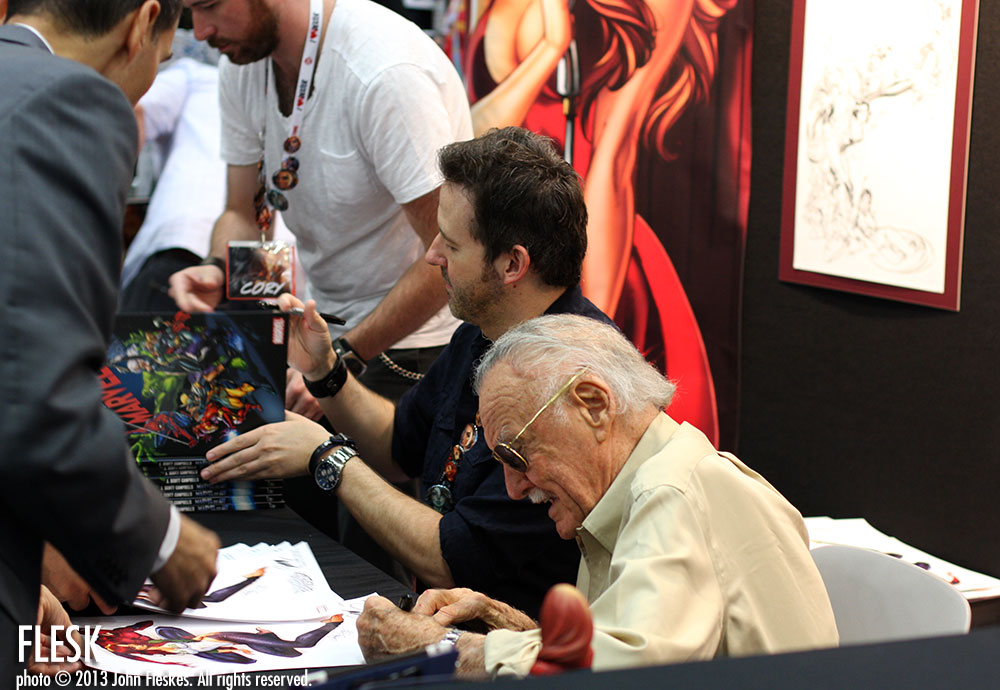 Stan Lee with J. Scott Campbell. I was rounding a corner when I saw this scene. I took one picture, and then was quickly asked to move along by security to prevent a mass blockage of bystanders in the isle. There was a long line wrapping around the booths going in my opposite direction. It was just a random ten second situation for me. I happened to have my camera in hand with my manual settings ready. It's part of the fun of Comic-Con. You never know what you might see and when you will see it.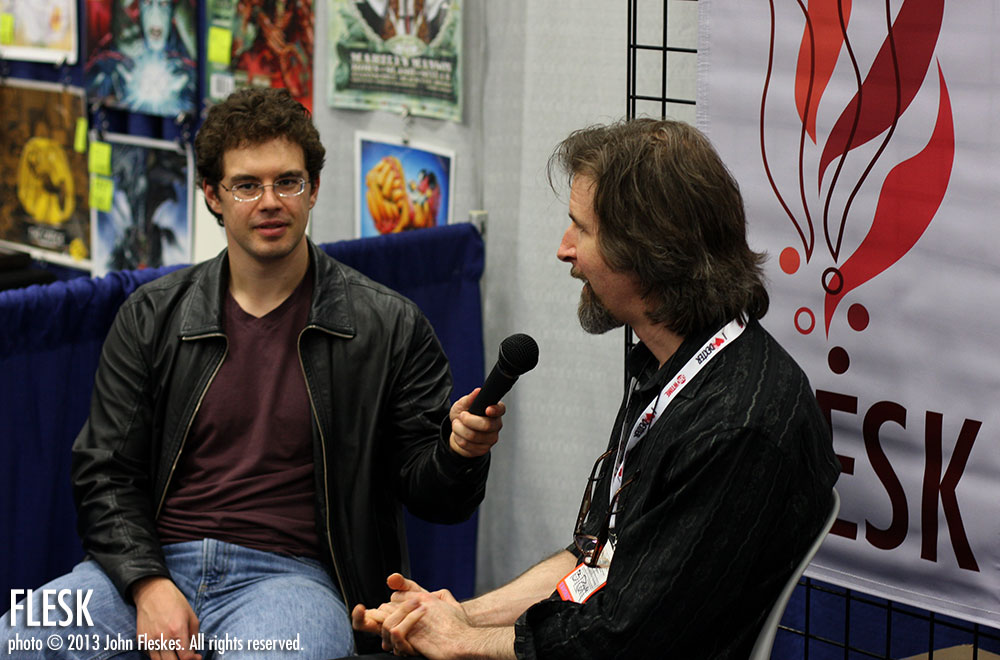 Christopher Paolini stopped by and interviewed Brom at our Flesk booth. What did they discuss? I was too busy taking pictures and helping customers to hear. I'll post a link to the video if it becomes available online.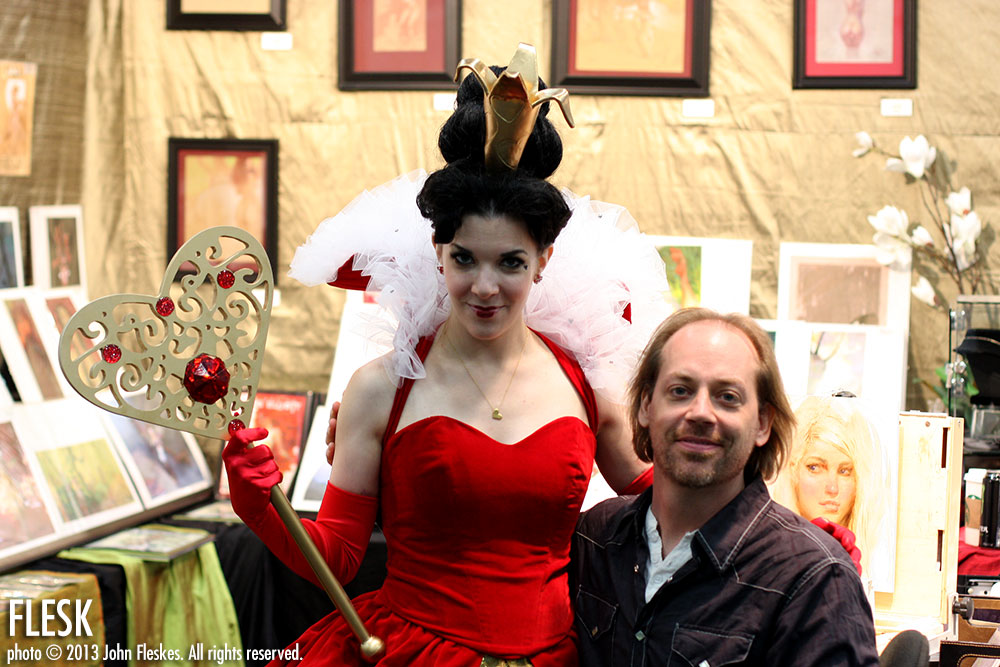 This is Craig Elliott with one of his muses at his Craig Elliott Gallery booth. Craig always has three or four beautiful women assisting him during the course of the show. I need to learn his secret. Or, maybe I should have been an artist instead of a publisher?
Craig Elliott redesigned his booth this year. He had books, prints, originals and he had erected high walls with a fancy backdrop to make for a gallery like setting. Craig was also doing live paintings from the model. Here is Craig during a rare idle moment.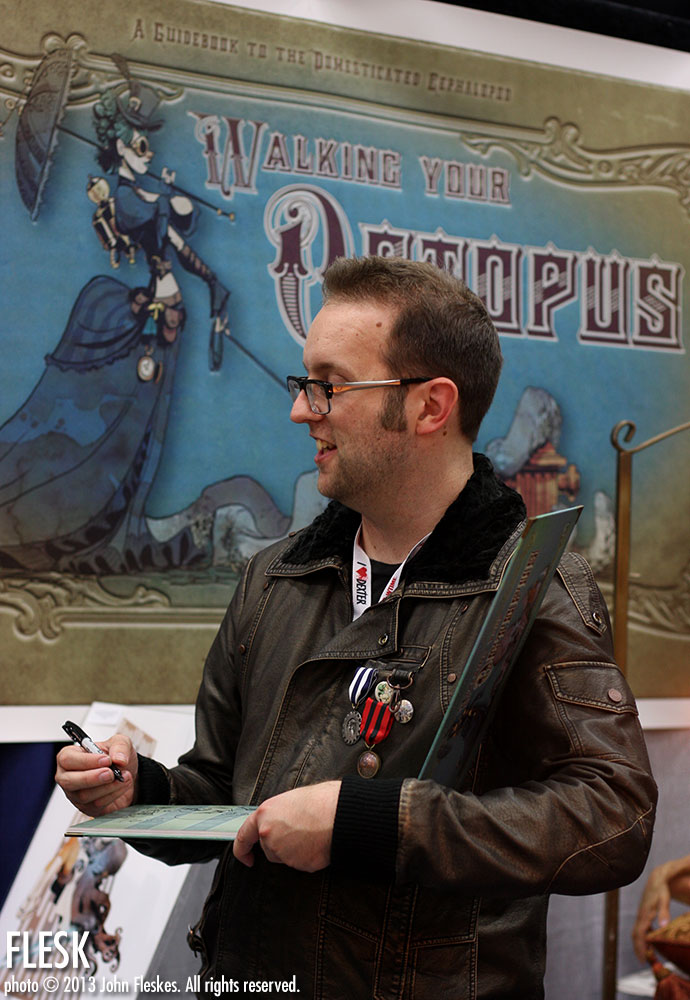 Across the aisle from Craig was the Baby Tattoo booth headed by the ever personable Bob Self. Brian Kesinger was there signing a copy of his Walking Your Octopus book at the Baby Tattoo booth. We got our copy at the Spectrum Fantastic Art Live show!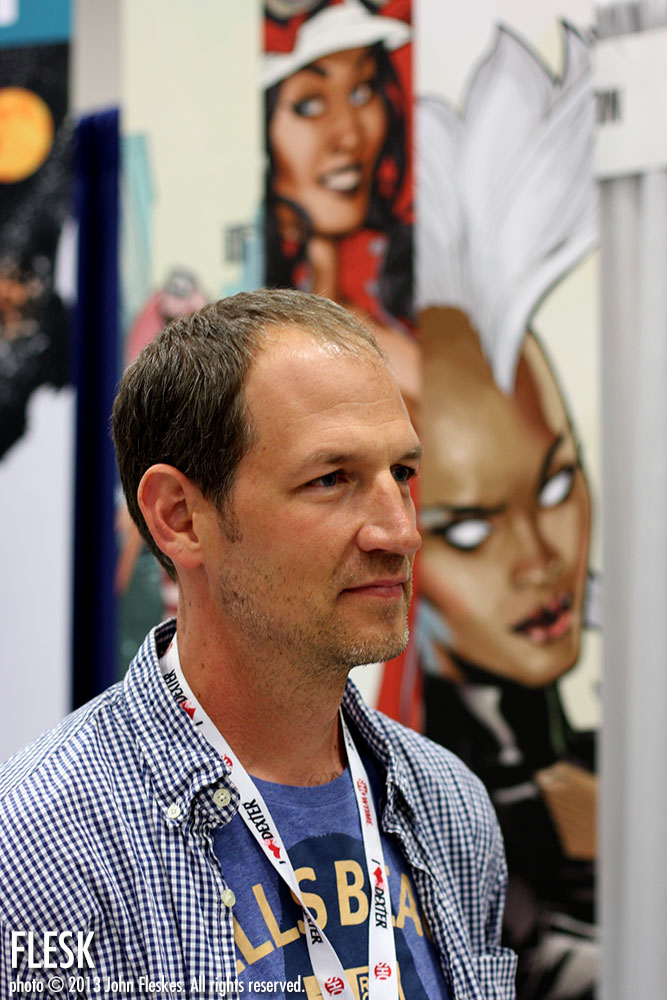 And here is Terry Dodson at his booth, which he shares with Aaron Lopresti. Terry unveiled his new Bombshells 7 collection, and had plenty of gorgeous original art to view.
I got to meet Mark Winters and John Stanko at their shared booth. It turns out they were not too far from our Flesk booth, proving the importance of getting out to see the wonderful art and people that are all around us.
Donato Giancola was busy working on a new piece in his sketchbook when I walked up. He has one of the more impressive displays of originals hanging.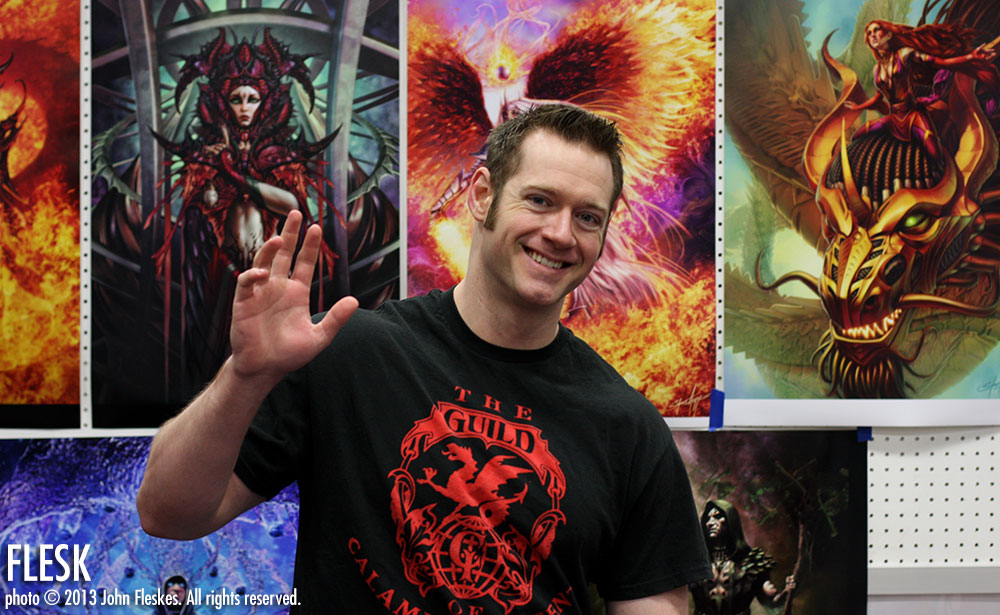 Steve Argyle introduced himself to me. I'm glad he did. Nice guy and how does that backdrop of his work look?!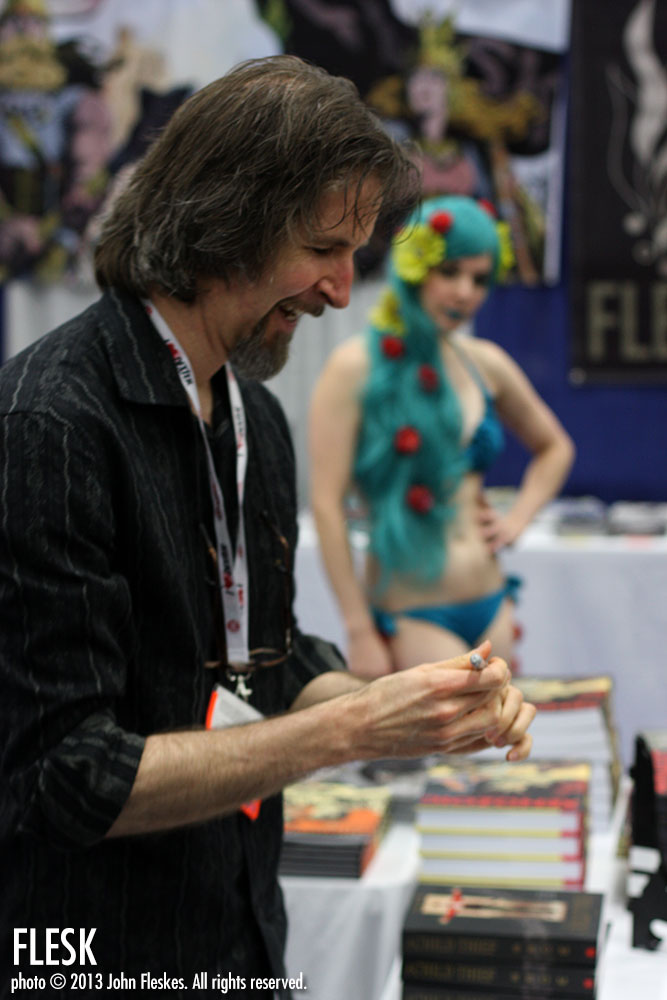 Here, Brom talks with a fan at the Flesk booth, with someone in the background bearing an uncanny resemblance to the cover model on The Art of Craig Elliott.
Zander Cannon in Artist's Alley. His latest book "Heck" from Top Shelf is a new book worth picking up.
Brom's creations from The Plucker come to life.
The ever positive and talented, Mr. Daren Bader.
What do you get when Mark Schultz stands you up for lunch? Answer: Mark draws a Hannah sketch in Daren's Xenozoic Artist's Edition book.
Christian Alzmann, a VFX Art Director at ILM, premiered his art book "Tales" at the show.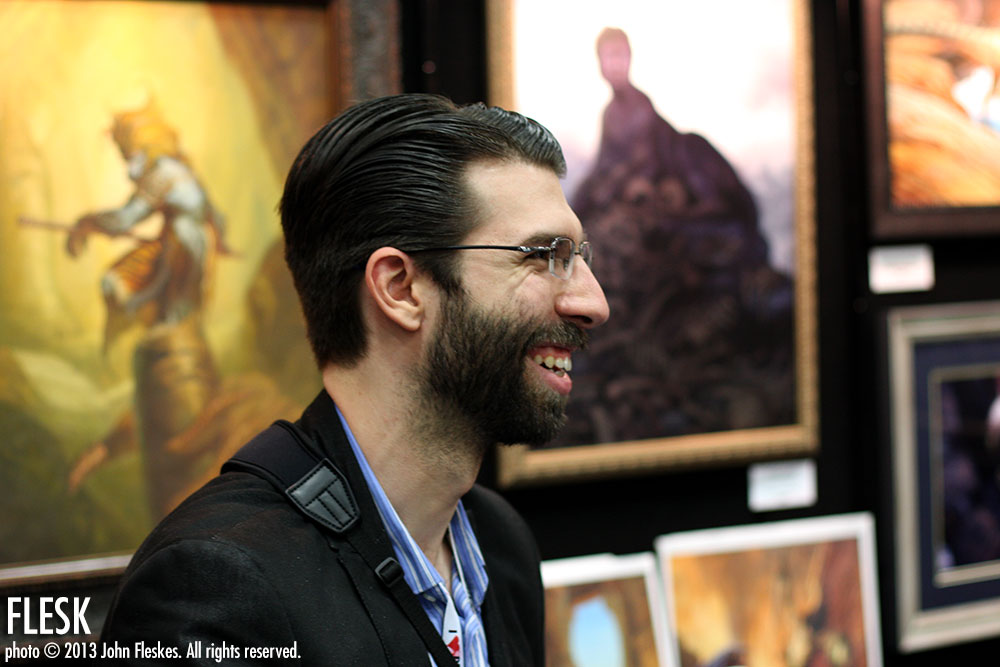 Here's a grab shot of David Palumbo. His art keeps growing more and more on me despite how much I liked it before.
See you all next year!
Enjoy,
John
John Fleskes
Flesk Publications
Text and photos copyright © 2013 John Fleskes. All Rights Reserved.