There's lots of cool Mark Schultz things going on at Comic-Con next week (to distract you from asking or wondering where Storms and Sea is). His new art book, Mark Schultz: Carbon and new printing of the complete Xenozoic collection that prints all the stories written and drawn by Mark to date, and a new print, "Beyond the Known Forest, She Talks with Birds" (visit my July 7 post to learn more about the print) will debut at the show.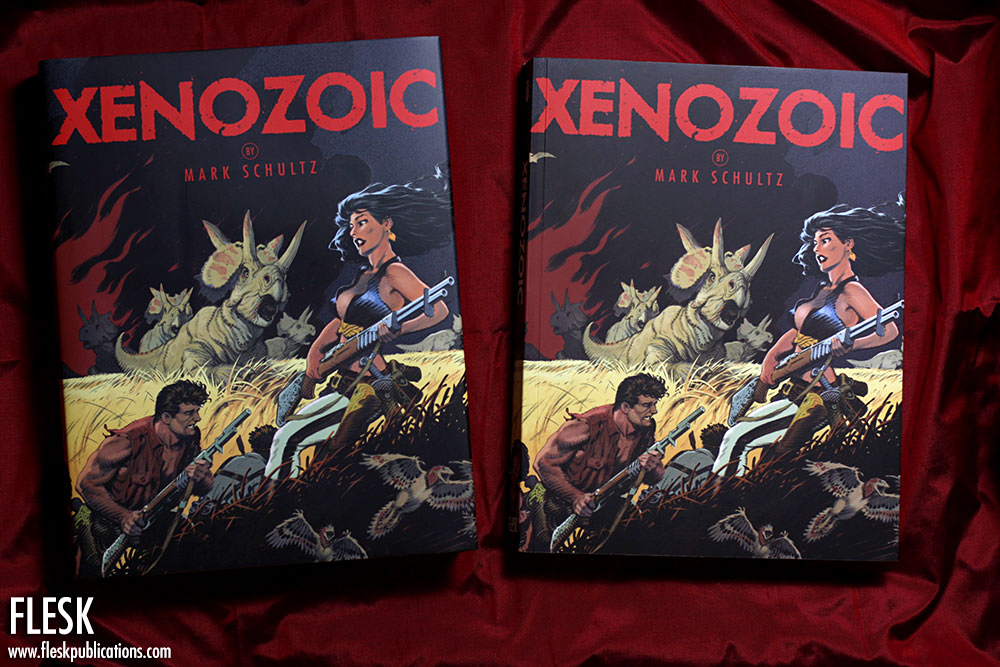 Thanks to our Kickstarter supporters and pre-orders from our Flesk website we will have less than 100 copies of the deluxe hardcover of Carbon (limited to 600 copies) at the show and only about 30 copies of the Xenozoic deluxe hardcover (limited to 500 copies). After these are gone, they will be sold out. We'll have plenty of paperback editions of both at Comic-Con which Mark will be pleased to sign for you.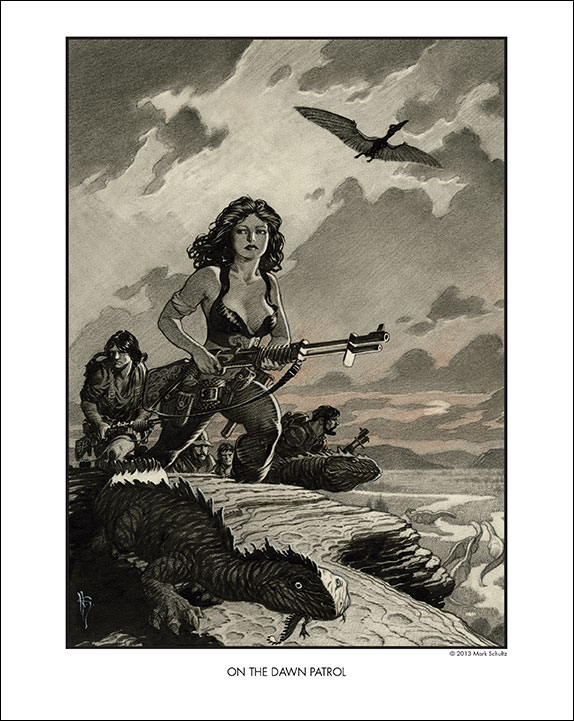 And I have a bonus item to announce for Comic-Con. We have a Mark Schultz 8 x 10″ print that we will be giving away for free with any purchase at the Flesk booth, or $5.00 by itself. Mark will sign it if he is at the booth when you pick it up. There's a good chance we will go through them all at the show.
These are the guaranteed times Mark Schultz will be at our Flesk Publications / Spectrum fantastic Art Live booth #5019.
-Wednesday 7/17, Preview Night: 6-8
-Thursday 7/18: 11:30-12:45 and 4:30-6:30
-Friday 7/19: 11-1 and 4-6
-Saturday 7/20: 2-4
-Sunday 7/21: 10:30-12:30
In addition, Mark will be appearing at our Flesk panel. Here are the details and time:
Flesk Publications Exposed! The Artists Spill Their Guts! The Truth Behind the Spectrum Transition!
Thursday July 18, 2013 10:00am – 11:00am
Room 32AB
Sure, 10:00 is early but, OMG, with a lineup including Brom (The Art of Brom, Krampus), Terry Dodson (Red One, Uncanny X-Men), Mark Schultz (Xenozoic), and William Stout (Hallucinations, Legends of the Blues) talking new projects-and publisher John Fleskes frankly discussing the future of the renowned Spectrum Fantastic Art series-you really should get your butt out of bed!
See you soon!
Enjoy,
John
John Fleskes
Flesk Publications
Text copyright © 2013 John Fleskes. All Rights Reserved.
Links:
Order Mark Schultz books and prints from Flesk Publications