The Spectrum 20 jury convened in Kansas City on Saturday, March 2. I was there to help out and took some pictures throughout the day.
Each artwork entry is set out on a table and is accompanied by a cup with a small hole at its base. If a judge likes the piece, he or she drops in a unique colored bean that is identified with that person. In this way duplication by one judge is avoided. The bean also remains hidden from view by the other judges. A majority vote of three or more beans marks the art for inclusion into Spectrum 20. The judges are discouraged from talking to one another to allow them to make a genuine anonymous vote without any outside influence or encouragement. This keeps things honest and fair.
Here's the sculptor, Tim Bruckner, who stayed enthused throughout the day.
Here are Tim Kirk (right) and Michael Whelan (left) viewing entries.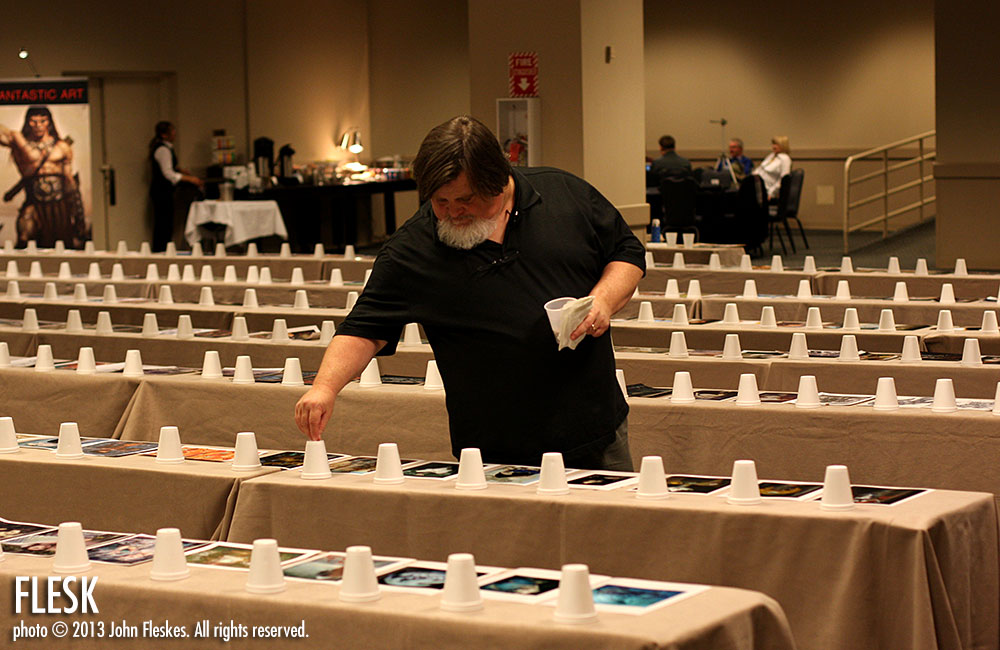 Mark Nelson sees something he likes.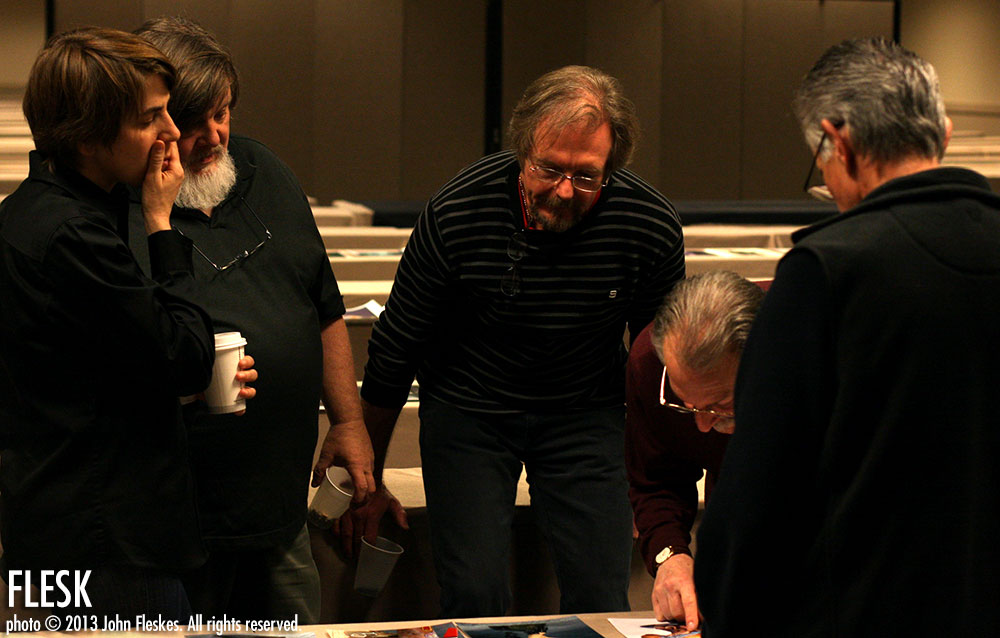 From left to right: Irene Gallo, Mark Nelson, Michael Whelan, Tim Bruckner and Tim Kirk discuss the works considered for the silver and gold awards for each category.
The Spectrum 20 judging is complete. This group got along exceptionally well. From left to right: Tim Bruckner, Mark Nelson, Irene Gallo, Michael Whelan, Cathy Fenner, Tim Kirk and Arnie Fenner.
There are more pictures, and a few videos, plus details about the day that can be found at the Spectrum Fantastic Art website and Facebook page. Also, they have a listing of who is being considered for the awards. (See the links below.)
I'm anxious to see who won the awards at Spectrum Fantastic Art Live 2 and the works that make it into the book this fall!
Enjoy,
John
John Fleskes
Flesk Publications
Text and photograph copyright © 2013 John Fleskes. All rights reserved.
Links:
Spectrum Fantastic Art
Spectrum Fantastic Art on Facebook
Spectrum Fantastic Art Live