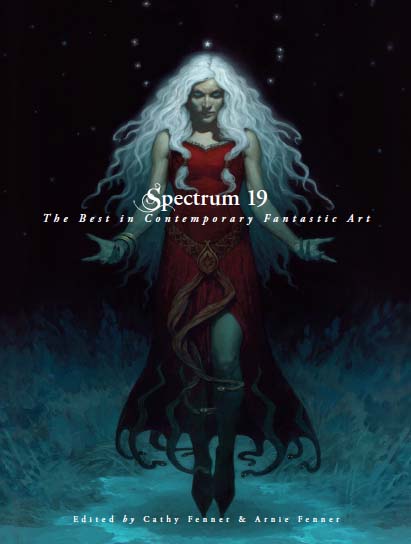 I received my copy of Spectrum 19 a few weeks ago. This is the most eagerly anticipated annual collection that I look forward to receiving each year. I rely on this volume to keep me hip and aware about the fantastic art genre.
It's taken me a while to plug the book since, the better the art, the longer it takes for me to peruse. I like to take a leisurely stroll by viewing around 30-40 pages a day. This lets me truly absorb and enjoy each work. It would be a disservice to me and the artists to flip through the pages quickly. This book defines the pleasure of observation.
I'm constantly amazed at the number of artists who do excellent work that are unknown to me. I get a thrill out of seeing fresh faces (to me, at least) and broadening my awareness of what is going on in the field of fantastic art. I realize that some of these individuals are young artists just beginning to gain exposure, while others are mature players who have been in the industry for decades. Regardless, these showcased works represent the best art from those submitted to Spectrum, who were selected by an esteemed panel of five judges. I feel Spectrum documents the current trends of the year not just to enjoy today, but also to serve as a historical preservation of the year for the future.
As I focus on my praise for the interiors, I'm going to jump into the first section highlighting the Advertising selections. This chapter is modest in page count, yet took me a considerable amount of time to peruse. There's Tyler Jacobson, Android Jones, Frank Cho, Matt Smith, Lucas Graciano and Victo Ngai who all impressed me. I was unfamiliar with each, except Android and Cho.
The Book, Comics, Concept Art, Dimensional, Editorial and Institutional sections all rock, too. Jumping to the Unpublished category, there are amazing pieces by Sho Murase, Justin Henrnadez, Jim Mahfood, Shelly Wan (we need more Shelly paintings!), Bill Carman, Kei Acedera, Eric Fortune, Charles Vess, and many, many more superb artists represented.
Spectrum 19 is a hefty 304-page gallery packed with examples from dozens of the best artists in the field. I'm especially enjoying seeing how digital art tools are being used to create increasingly exciting images. Spectrum 19 is available everywhere and easy to find. Go check it out!
Enjoy,
John
John Fleskes
Flesk Publications
Text copyright © 2012 John Fleskes. All rights reserved.