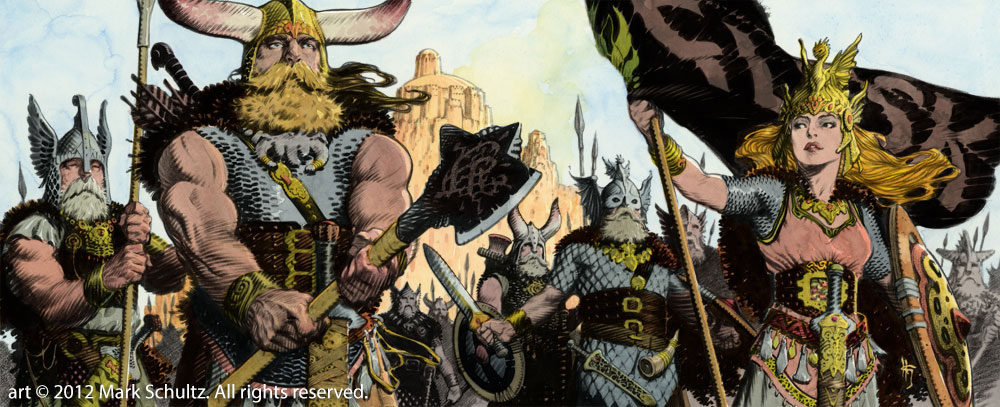 Early this year I asked Mark Schultz if he could create a new piece of art incorporating the Flesk Publications name that I could use for website and show banners. This is the first time I have commissioned an artist for a work specific to the company. I try to be as hands off as possible, since it is the vision of the artist I am looking for, not mine. The theme, however, we did discuss. I let Mark know how much I love Jack Kirby's imagery from his run on Thor, and Joe Kubert's art on The Viking Prince. We continued our discussion by exploring visuals inspired by the majesty, romance, strength and power that comes with this territory, and that I was hoping for something in this vein. Then, I left Mark alone.
A few months later he presented me with four sketches showing different compositions and ideas. After I made my pick, I discovered it was his least favorite of the quartet. (Well, it's his fault for showing it to me!) Mark ended up refining and tweaking the composition by taking elements from the sketch I highlighted and from another that he felt had ingredients that he wanted to incorporate into the final art. A new fifth sketch was formed, which I gave him my thumbs-up to. Mark went on to use a blue pencil to delineate the underdrawing, and then used a brush and ink to finish the drawing.
Mark added the "Flesk" to the flag, and you can see part of our logo on the left edge of it. He also incorporated an "FP" on the axe held by the main warrior. He then went on to hand color the art using watercolors on a separate board, which was then scanned and added as a layer under the scan of the brush and ink art.
I love the outcome!
This art premiered on our Facebook page a few weeks ago.
If you are wondering about what all of the sketches I mention look like, you will have to wait to see them in the next Schultz art book coming out in summer 2013. I figure being a Schultz fan you are used to waiting…
Enjoy,
John
John Fleskes
Flesk Publications
Art copyright © 2012 Mark Schultz. Used with permission. Text copyright © 2012 John Fleskes. All rights reserved.