I'm back from the Stripbeurs Breda show in the Netherlands. This was my favorite show in a long time. The hospitality of the Dutch was a welcome experience. I had heard they have a reputation for being good people, and I can tell you it is true! The show coordinators and volunteers, artists, publishers and fans I met were some of the most genuine and friendly I have experienced at an event.
The following is a small sample of the two hundred plus pictures I took on the trip, along with some brief notes.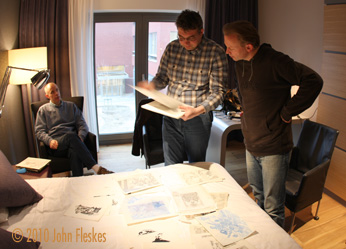 I've got to start off with Mark Thelosen and Guido de Bue. If it weren't for these two guys, Mark Schultz and I would not have been invited to the show. Not only did they make all of the arrangements for our trip, but they also served as the ultimate hosts by serving as tour guides and setting up the Flesk booth and providing help for the event. They are two very professional and special guys. In this picture above we have Mark Schultz sitting down on the left, then Guido in the middle, followed by Mark T. Schultz invited them to his hotel room, pulled out his originals and spread them out across the bed, then invited both to pick out an original as gratitude for all they had done. I think there was about 30 or 40 originals to choose from. I got a real kick out of watching these two select their complimentary art. Good things happen to good people. These are two outstanding gentlemen.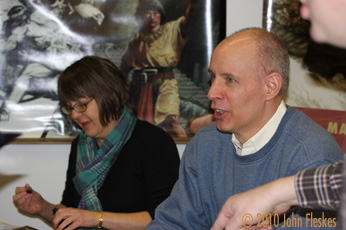 This is Mark Schultz and his wife Denise on Saturday morning at the Flesk booth. (Along with Guido's hand and chin.) I was happy to see how quickly we became busy. It felt good to hear how many people already had one or more of our books and were buying additional titles to round out their collections. Mark turned into a signing machine during both days. People brought many cool foreign editions of Xenozoic Tales collections I had not seen before, as well as many oddball comic books from the states.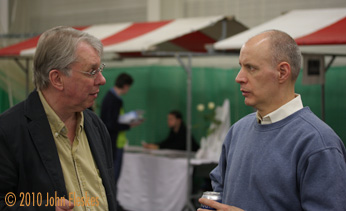 Here is Geoff West of The Book Palace on the left and Mark Schultz on the right. Geoff was one of the first retailers to purchase our books back when I started in 2002. We have spoken and written many times over the years and I was glad to finally meet him in person for the first time. Geoff recently published the third installment of the Deluxe Gregory Manchess illustrated Conan book that had been delayed by Wandering Star for over five years. Thanks to Geoff the book has finally been produced.
Here is Mark Schultz and Petar Meseldžija (right) looking over Petar's Serbian edition of "The Legend of Steel Bashaw." Petar, who lives in the Netherlands, was kind enough to spend two hours each day signing at the Flesk booth to celebrate and promote our publishing the English edition of his beautiful book this fall. (I will have full details about this project shortly.) Petar brought his good nature and positive aura to the Flesk booth. He made us all smile and laugh throughout the show. Petar is like our long-lost brother who we have recently discovered.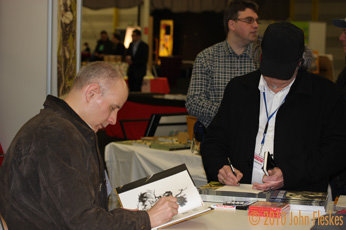 How is this for a magic moment? Mark Schultz is doing a sketch for Achdé, while Achdé is doing a Lucky Luke drawing for Mark. Achdé was one of the main guests for this year's show and a funny and nice guy. There's Guido again in the background, never far away to make sure we are taken care of.
Here we have Petar Meseldžija doing a sketch in his new Dutch sketchbook. The purchaser of the book asked Petar to draw a woman inside. Petar proceeded to fulfill his request by drawing a 135-year old woman with one big tooth sticking out of her mouth! It was hilarious.
Check out this line-up. Starting from the rear to the front, in the red shirt is Mike Mignola, Barry Kitson, John Watson, Adi Granov, Achdé, and Paul Renaud! A mob of fans kept these top-rated artists busy all day Saturday and Sunday. I was lucky enough to talk with each of them at one time or another. It was an absolute pleasure to sit with Paul Renaud at one point and get to know him better. He is extremely passionate about his work and growing at an unbelievable speed. He's a super nice person.
On the Monday after the show, Mark Schultz and myself were invited to speak at a local art college. Here Mark is performing an inking demonstration to approximately twenty-five illustration students. All in all, we spent just over three hours there. We enjoyed the experience. The students were sharp and had many good inquisitive questions.
The only unfortunate incident was my becoming sick on that Sunday evening just as the show was ending. I was feeling fine, and then got hit hard by nightfall. A sore throat made it difficult to talk the last few days while traveling. Despite this, I still went out late and woke up early to maximize my time in the Netherlands. Again, I had a wonderful time. Thanks to everyone who came by our booth at Stripbeurs Breda!
Best,
John
John Fleskes
Flesk Publications